Cadbury brings joy back to the holidays
How the brand is driving local relevance and trying to stay top of mind this December.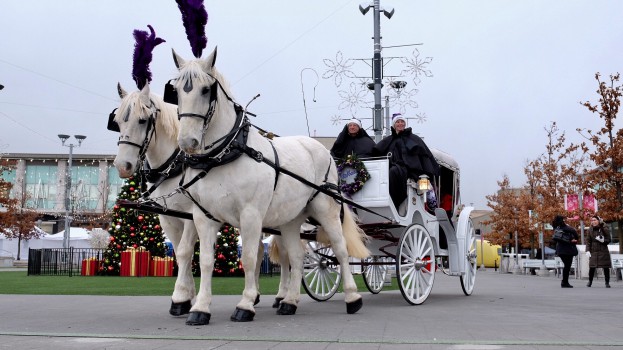 After several years of not advertising here during the holiday season, Cadbury has been delivering some holiday joy to Canadians in 2016 with a series of events in three different cities.
In Toronto, the brand brought a horse-drawn carriage to the Shops at Don Mills shopping centre to give shoppers a relaxing tour around the area, complete with live music and Cadbury brand ambassadors on site to play holiday games with children. In Ottawa, the brand came to the outdoor Sens Rink of Dreams outside city hall, creating a lounge where people could take a break to get out of the cold and covering the costs of skate rentals for the day. Cadbury also brought Olympic figure skate Joannie Rochette to the rink, who treated people there to a special performance on the ice.
This weekend, Cadbury will visit Vancouver's Enchant Christmas Market with a 15-foot tall snowglobe. Vancouverites – who typically receive less snow than the rest of the country – will be able to play inside the snowglobe and have their photo taken.
All of the events also feature, of course, free Cadbury chocolate for visitors.
"The idea was to get Cadbury back top of mind for consumers during the festive season," says Megan Sweeney, brand manager for Cadbury at Mondelez International Canada. "It's been a while since we've activated in this holiday season, but we know a lot of our products are already a part of families' traditions anyway. It's a great opportunity to do some great events that will encourage them to take a break from holiday stress just to enjoy the season and time with family a bit more."
Cadbury has also been engaging influencers in all three markets to get the word out about the events, and the brand's Canadian creative agency Ogilvy has also been on-site at the events and producing social videos that are being promoted through Facebook. Experiential agency Inventa helped bring the events to life, with Weber Shandwick providing PR support.
The "delivering joy" idea was born out of a campaign originally crafted for the U.K. market by Fallon last year and brought to Canada and Australia for 2016. In the campaign, Cadbury made an advent calendar out of as series of numbered trucks, which traveled across the country to deliver chocolate to 24 different towns. A TV spot adapted for the Canadian market has been running since the end of November.
"We've got great assets and things that we can execute based on them, so the timing came together really nicely," Sweeney says of the decision to return to holiday advertising. "It's definitely a competitive season, but we also know that we have the products that can play during this time. Cadbury products inherently makes a ton of sense for this time frame, so we knew adding a very focused and cohesive message that makes people pause and enjoy the season would break through."
Sweeney adds that focusing on experiential in Canada was the best way to drive local relevance out of an established global message.
"We knew that we could make a bigger impact if it was more personal and unique by coming up with three different things that engaged people on the ground," she says.