Helen Pak joins Grey Canada
The agency's new CCO will lead creative across all offices, while Havas names its new leaders.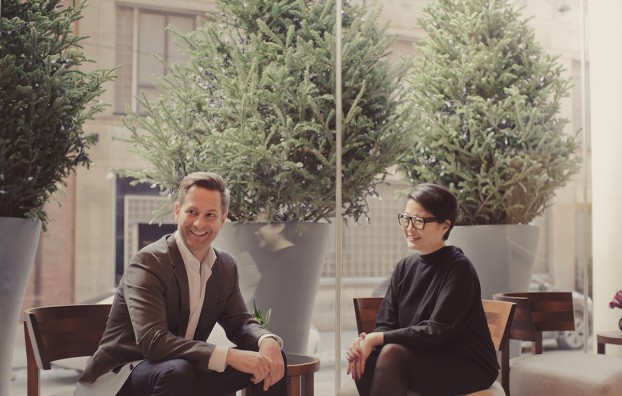 Pictured: Marc Lanouette and Helen Pak.
Grey Group Canada has hired Helen Pak, naming her chief creative officer.
As CCO, Pak will lead creative across the group's Canadian agencies, which include Grey offices in Toronto and Vancouver, as well as Tank in Montreal, which was acquired by Grey Group in December. Pak's first day is March 20.
Pak was most recently CCO and CEO of Havas Worldwide Canada. She joined that agency as CCO in late 2014, taking the added role of CEO a year later after Ann Bouthillier left. Prior to that, Pak was the Canadian lead for Facebook's Creative Shop, which she joined after more than six years leading creative at Saatchi & Saatchi Canada.
"It was an opportunity I couldn't pass up," Pak says about joining Grey. "They have a great roster of clients, a fantastic executive team and strong strategy and creative talent. But the work Grey has done over the years is amazing, and it's truly world-class and competes on the global stage. Then with the addition of Tank in Montreal, they're set up to continue to do great global work."
Grey has been without a national CCO in Canada since the summer, when Patrick Scissions left the agency to take the global CCO role at KBS. James Ansley and Joel Arbez were both promoted to ECD at that time, joining Katie Ainsworth in Vancouver to fill out the agency's creative leadership. All of Grey's ECDs – as well as Tank ECD Alexandre Gadoua – are retaining their positions within their offices, but Marc Lanouette, CEO of Grey Group Canada and president of Tank, says bringing Pak on as CCO is a way to further help Grey's creative legacy move forward.
"If you look at the heritage of what Grey Canada has been able to accomplish over the last few years, it's been some amazing work," he says. "Grey is an amazing network but Grey Canada has accomplished amazing things within that. It's important to me to maintain that heritage and keep the creative output up to that standard, and find someone like Helen who had the credibility and gravitas to take on a position like this."
Grey Canada's clients include P&G, Brown-Forman, GlaxoSmithKline, HSBC, The Salvation Army and Volvo. In December, the agency added 11 new staff in Toronto across creative, client services and production departments, and Lanouette says further "aggressive" growth is planned over the course of the year now that Pak is on board.
When it comes to Tank, Lanouette says part of Pak's role will be assisting him in his efforts to "take the brand global" and expand into new markets. Lanouette has already singled out Japan as a potential area for Tank's expansion, in addition to four others currently being considered.
"Helen's international perspective and background is one of the things that made her an attractive partner to help me grow this," Lanouette says. Pak has also served as creative director at StrawberryFrog in Amsterdam, and was part of the global team that created the original "Campaign for Real Beauty" for Dove while she was an ACD at Ogilvy Canada.
Tank's client roster includes Abbvie, Bristol-Myers Squibb, Pfizer, Eli Lilly, Lundbeck, Telus Health and the Department of Canadian Heritage.
Back at Havas, Tom Olesinski (previously the agency's CFO and CEO of Havas Media Group in Canada) has been named CEO of the agency's office in Toronto, with Jan-Nicolas Vanderveken (who was named president of Havas Montreal last year after his agency TP1 was acquired) becoming CEO of Havas Montreal. Olesinski will remain CFO for both offices. On the creative side, Cory Eisentraut (who joined the agency in 2015) remains creative director in Toronto, while Frédéric Bruniquel (who has been with Havas since 2011) continues to hold the same role in Montreal.
Correction: An earlier version of this story stated that Havas' Toronto and Montreal offices would now be operating and reporting independently. While each office has its own CEO, it will continue to report in to Havas global as a unified Havas Canada. Strategy regrets the error.