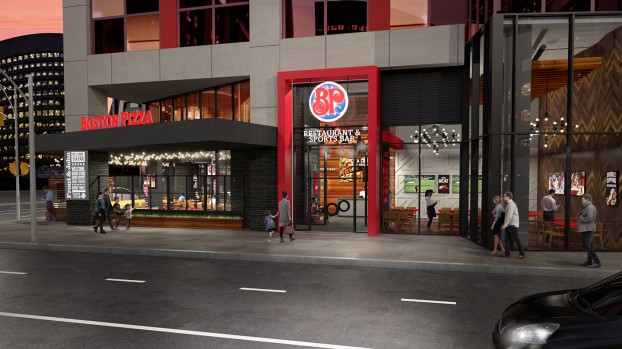 Boston Pizza's Toronto flagship has a new look, featuring tech and design elements that will serve as both the launch pad and testing ground for the brand's new urban strategy.
Design agency Shikatani Lacroix worked with the restaurant chain on the redesigned location at Front and John streets, which the company bought last year to serve as a showpiece to investors and potential franchisees, says Alan Howie, Boston Pizza's EVP of operations and development.
"It's part of an urban strategy to build additional restaurants. They may not all look like this and be as big as this, but they will have a lot of the same elements from a design point of view and a technology point of view," he says.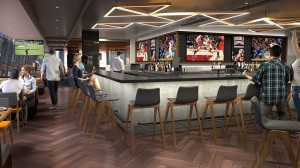 "Bits and pieces of what you see at Front and John will make their way into every restaurant in our chain, in every new build that we have, whether they be urban, suburban, small-town or non-traditional [such as airports or hotels]."
Though the brand has almost 400 locations across Canada, most are in suburbs and small cities and towns. There are only four in Toronto, not including the GTA, he says, leaving it "underrepresented" in urban areas – key for growth as more Canadians live in cities. He says there could be 10 to 15 more locations in Toronto.
The new look continues the restaurant's dual concept of family dining and sports bar. The brand wanted to "own that space in consumers' minds" as the celebratory post-game spot for sports teams without taking away from the family feel, says Jean-Pierre Lacroix, president at Shikatani Lacroix. "The challenge for us was, how do you create that experience where you welcome teams but also make it an intimate environment where maybe a couple want to go out and have dinner out."
While the new model has the dining area upstairs and the bar downstairs (with a wrap-around patio that will open into the restaurant when weather permits), it also created a special team room with collapsible doors to separate it.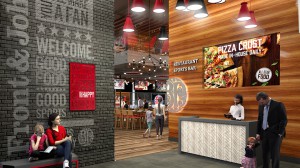 There are also personal touches for those sports groups and other loyal customers. A screen in the greeting area can be personalized to welcome particular teams, congratulating them on a win.
"It's really important now to have a connection to the community that you're in," says Helen Langford, SVP of foodservices. "Sometimes that's a risk for large chains, that you're not as community based. We want to make sure that we're calling out the fact that we're aware of where we are and we're customizing the experience."
Boston Pizza sees takeout and delivery as a key growth area, especially in the urban environments (a condo village overlooks the flagship). The redesign features a separate section with its own entrance for those customers.
Other digital elements include a touchscreen menu in the greeting area and other digital boards throughout the restaurant featuring live updates from the sports world (with Boston Pizza branding and messaging mixed in). The idea is that sports fans are constantly on their phones for the latest news, and the screens can encourage a group dynamic by allowing patrons to take in the same information at the same time.
Though the restaurants feature a retouched colour scheme and new typography to enliven the branding, Langford says they've taken care to ensure it won't feel "foreign" to regulars.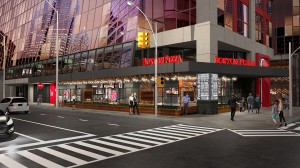 Three new restaurants are planned with the same features: at Yonge and Gerrard in Toronto (which will also include a rooftop patio with retractable roof), as well as downtown Edmonton (the franchise home) and Ottawa.
The chain's renovation  program, which works on a seven-year cycle with 50-60 locations revamped every year, will gradually expand the look across the country.
"This isn't going to be a one-and-done scenario," Langford says. "We wanted to make sure that all the design elements that we use at Front and John could actually be transferrable."
Meanwhile, the flagship will remain a testing site for new tech, such as being able to pay at the table through the MyBP App.