Selling bold ideas up the chain
How a focus on business problems helped BMO take on a risky marketing initiative.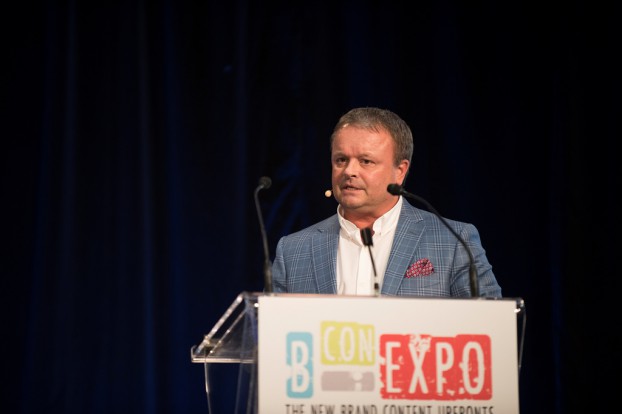 Every marketer has faced the challenge of selling an idea up the chain, but the one championed by Michael Letsche was perhaps especially daunting (and sometimes NSFW).
The managing director of marketing at BMO Wealth Management  (pictured above) recently described to attendees at BCON Expo his tale of selling the bank's branded content partnership with Vice Media to the rest of the executive.
Spoiler: the plan went ahead and has been driving some success for the bank.
But how exactly did it make "not safe for work" work?
Don't get mesmerized
When Letsche took over his current role last April, he began reviewing marketing and media strategies from the year prior. One tactic that had been suggested (and ultimately passed over) was a branded content play with Vice Media.
Yes, Vice, which as of this writing has stories with the headlines "Millennials Are Making Pooping Cool Again" and "We Asked People What They Learned Writing Porn." Not exactly safe ground for a financial institution.
But by the time Letsche looked at the proposal, Vice was creating a financial content vertical, which changed the value proposition of a potential partnership.
BMO had a problem with millennials, Vice's core audience whom the bank struggled to reach with traditional media buys. It found this audience to be under-informed about the value of various banking products as a result. The 25- to 35-year-old cohort "is half the workforce now," Letsche said, and don't know the value of fixed-rate versus variable-rate mortgages. So he set up a meeting.
"A few days later, I walk into my boss' [Betsey Chung] office. I said 'Betsey, this is something we need to do. This is something you want to be part of. This is something I'll bet my career on.'"
Turning to the BCON attendees, Letssche then said, "If you've written down nothing today, I want you to write this down: Don't do that.
"That's when the solution becomes so enticing and mesmerizing, it takes over your thinking."
Be problem-focused
Chung, however, saw the partnership as a potential solution to the millennial problem, Letsche said. She met with Vice and, in turn, brought in CMO Connie Stefankiewicz who, upon also meeting with Vice, said she was willing to put her name on the proposal and spread the risk.
Outside of Vice as the solution, BMO needed to step back and think about its problem, Stefankiewicz tells strategy. "What is it that we want to accomplish, what is the need we're trying to fill here?" she says the team asked themselves.
They were key questions and ones that Stefankiewicz ultimately took to the COO.
"Nobody just takes these things straight to the COO," Letsche said. "I'll never forget: the meeting was a Friday about four o'clock. The COO had prepared for the meeting by going to Vice.com… and the first thing on that page said 'Not Safe For Work, NSFW.' He asked what we were thinking, but Connie is so passionate about the problem we have that she was able to talk him off the ledge and concentrate on the problem – this is just one possible way to solve it. Big problems require big solutions."
That focus on problem solving would carry the pitch to a 10-member committee of the bank's most senior executives – the reputation risk committee – who likewise overcame their discomfort.
"I want to drive home the importance of the fact that we did not spend the 24 hours before [the risk committee meeting] talking about the opportunity and talking about Vice," Letsche says.
"Yes, we talked a lot about them, but we talked about the problem we wanted to solve. If it wasn't Vice, it was going to be something else."