Crispy Minis breaks up the day
Driven by insights around its taste, the PepsiCo brand turns to experiential to drive trial.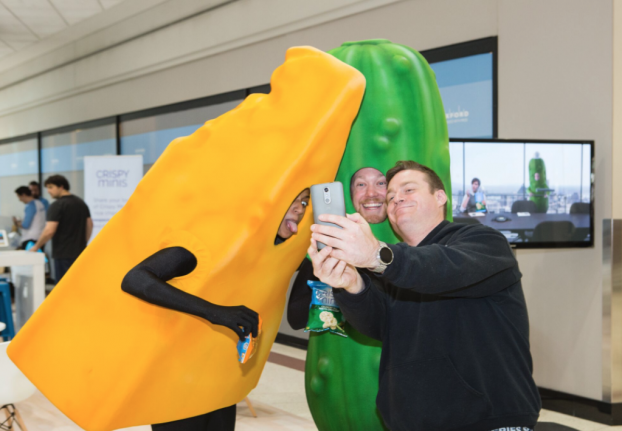 Crispy Minis is hoping to show how its portfolio of snacks can break up afternoon monotony, turning for the first time to experiential to drive its point home.
Working with Citizen Relations, the PepsiCo Foods brand has set up a relaxation lounge in a commuter-heavy zone in downtown Toronto. Complete with massage chairs to go along with the chips, the brand wants to get busy professionals to take a break from their days and try the products.
"The campaign is really around breaking the notion that rice chips don't taste good," says Mangala D'Sa, senior director of marketing for Quaker at PepsiCo Foods Canada.
The experiential execution is part of the brand's "Unexpectedly Flavourful" platform introduced earlier this year, with DDB leading creative on the mass campaign and OMD on media. The campaign is also getting sampling support from partner Reef Moxie and in-store led by Mark IV.
The brand had embarked on research with customers and non-consumers of its snacks, finding that a key barrier to purchase was the perception that rice chips are a bland, cardboard-like snack.
At the same time, its loyal customers' primary reason for loving the product was actually the taste. That disconnect led the brand to focus on flavour in its mass campaign, first introduced in March.

However, driving trial is also key to having consumers understand that message, prompting Crispy Minis to turn to experiential, D'Sa says. Along with sampling, it's also using coupons to drive purchase of its  Veggie Crispy Minis, introduced earlier this year.

"It's really dialling into the consumer behaviour of when she's eating it," she says of the experiential portion, targeting busy moms in particular but also busy men and women generally.

Research has shown that the snack has been a go-to for breaking up the day and Crispy Minis is hoping to position itself as an afternoon snack that won't derail consumers' health goals, D'Sa says.

Crispy Minis – positioned as a "better for you chip" – has indeed been getting more marketing support from PepsiCo for the past two years (following a refresh of its brand and packaging in 2015) as part of the CPG co's overall nutritional goals, she says.