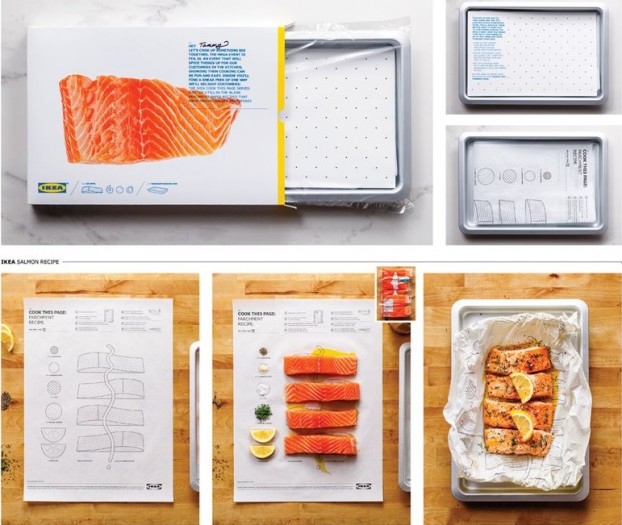 By Mark Burgess and Harmeet Singh
IKEA Canada's "Cook This Page" – a campaign by Leo Burnett that many predicted would do well at Cannes – continued meeting those expectations Monday, picking up a Gold Lion in the Outdoor category and a Bronze in Promo & Activation.
The campaign printed recipes on parchment paper with measurements for the IKEA ingredients drawn out on the page, which could then be wrapped up and placed in the oven.
The work (which won in the Small Scale and Special Solutions subcategory) was executed in "a very IKEA style," and could do well in other categories, too, Outdoor jury president Bruno Bertelli told strategy.
"The brilliance of that campaign is that it's traditional advertising but done in a way to engage with the target," said Bertelli, global chief creative officer for Publicis Worldwide Global.
At the press conference, he told reporters that the challenge for traditional OOH advertising was to be relevant by invoking topics in politics and popular culture. The criteria for the jury, he said, was "Would I look up?" and "Would I give a shit?"
The number of entries in the Outdoor category was down slightly, which he attributed to the trend toward non-traditional advertising. But he said outdoor work still has the power to make brands iconic.
"Running after data, running after numbers, running after events, sometimes we forget what the brand stands for," he said.
Two Grand Prix awards were handed out in Outdoor this year, the first given to State Street Global Advisors' "Fearless Girl," by McCann New York, with Twitter also awarded the top prize for its billboards featuring Muhammad Ali, Hillary Clinton and Donald Trump, Prince and others.
In addition to its Outdoor win, Leo Burnett and IKEA are also bringing home a Bronze in Promo & Activation.
This year's category judges spent some time discussing how to actually define the category, said jury president Stéphane Xiberras, president and chief creative officer at BETC France.
In previous years, Promo Lions have become largely a contest in use of tech, but this year, the jury was seeking insight at the crux of the winning work, he said during Monday's press conference announcing the category's winners. Ultimately, the jury's goal was to award work based on simple human insights above all else, he said.
That insight also needed to create a level of engagement with consumers and go beyond simply promoting the brand.
It's not surprising, then, that the sole Canadian win in the category, a Bronze, went to "Cook This Page," which tackles cooking, something many people find challenging and intimidating.
In the end, the jury awarded this year's Promo & Activation Grand Prix to 180LA's  "Boost Your Voice" campaign for Boost Mobile. Ahead of the U.S. presidential election last year, Boost turned its store locations in underserved communities (including in southern California and Chicago) into polling stations to help increase voter turnout and allow more lower income and minority voters to cast their ballots by avoiding long lines and inconvenient locations. Voter turnout in the areas where Boost made its stores into polling stations climbed 23%.
What made the campaign Grand Prix-worthy was that it wasn't just about promoting Boost's stores but was rooted in human values, Xiberras says.
Outdoor
IKEA Canada, "Cook This Page," Leo Burnett Toronto; Grayson Matthews Toronto; Papertec; Printed by Somerset; Trade Graphics by Design
Outdoor: Small Scale Special Solutions (Gold)
Promo & Activation
IKEA Canada, "Cook This Page," Leo Burnett Toronto; Grayson Matthews Toronto; Papertec; Printed by Somerset; Trade Graphics by Design
Food and Drinks (Bronze)