Mazda puts its attention to detail to the test
The automaker uses high-powered photography to allow users to zoom in on the smallest details of MX-5 RF.
It's been a few years since Mazda Canada used the "zoom zoom" tagline in its advertising, but it's letting people do exactly that – over and over again – in its latest campaign.
The online experience places a Mazda MX-5 RF outside of David Dunlap Observatory where it was photographed by noted car photographer Shin Sugino, who used a Phase One Camera System to capture extremely small details in the photos. That allows visitors to the site to zoom in incredibly close and see the smallest elements of the car's design from multiple angles. Putting it outside the observatory is meant to provide a comparison between the details that can be seen in stars in the sky (which users can also get a close-up view of).
Mazda Canada worked with J. Walter Thompson Canada and Excelerator Media on the campaign, with Thinkingbox handling digital production on the website.
Mazda will be driving people to the site through digital ads and social posts, with prints from the photoshoot being sent to Mazda owners, driving enthusiasts and automotive bloggers as part of a PR push.
Earlier this year, Mazda and JWT created a billboard with face-tracking technology built in so it could track how many times the MX-5 RF literally caused people to turn their hands. The idea was to focus on how attention-grabbing Mazda's focus on detail and design is. Neal Bouwmeester, national manager of brand communications at Mazda Canada, says this new campaign simply interprets that same idea in a far more literal way.
"There's an inherent risk with doing something like this," he says. "A lot of manufacturers wouldn't allow this because you can see what might be considered issues with the body. But we believe so strongly in our vehicles, we thought that was fine."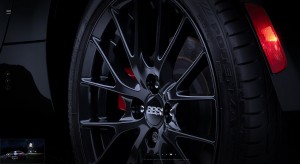 Such hi-res zooming might, for example, reveal some oxidization on the break router. But Bouwmeester says that kind of thing won't bother Mazda's target consumer.

"Anybody who is a true performance vehicle enthusiast will know that's completely normal. That just means it has been driven, and the next time you hit the breaks, that little bit of oxidation shakes off," he says.

From a marketing perspective, Bouwmeester says the response to the "Head-Turning Billboard" gave Mazda the confidence to be a bit more adventurous with how it communicates its attention to detail, like in Observatory. A spot currently running in Quebec that shows the hood of a Mazda 3 being blasted with salt (to prove it can stand up to harsh weather conditions) will also be adapted for the rest of Canada in the near future.