FCB big winner at the Clios
Canadian agencies collectively earned 42 trophies across the award's different categories.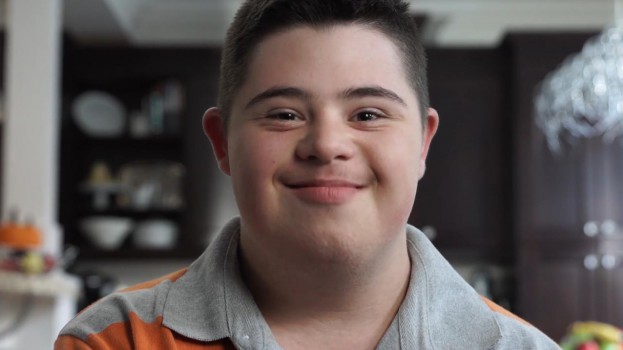 The Clio Awards have announced this year's Gold, Silver and Bronze winners, with FCB leading the awards tally for Canada.
FCB Toronto won four Gold and one Bronze Clio for the "Down Syndrome Answers" campaign (pictured), which also picked up several Lions across categories at Cannes this year. The agency was also awarded a Bronze for the "Where Am I?" campaign for the Ontario Tourism Marketing Partnership Corporation, while digital sister agency FCB/Six won a Bronze for "The Call That Comes After" for Drugs Free Kids Canada.
SickKids' "VS." was the top-performing Canadian campaign in this year's Clios, earning lead agency Cossette one Gold and three Bronze awards, with production house Skin and Bones winning a Silver and six Bronzes in Film Technique categories.
Rethink, Leo Burnett and Lg2 were the other Canadian agencies awarded Silver and Bronze on top of their Gold wins.
In Clios Music, The Young Astronauts followed up its Entertainment Lion win with a pair of Gold Clios for its work promoting the release of Drake's album Views. In Clios Fashion & Beauty, OneMethod was awarded two Bronze for the "Canadian Apparel" activation for its OneMeth Goods fashion brand.
The full list of Canadian winners can be found below. The Grand Clio winners will be announced at a gala ceremony on Sept. 27 in New York.
FCB Toronto: 4 Gold, 2 Bronze
Gold
Canadian Down Syndrome Society, "Down Syndrome Answers": Direct (Film), Direct (Social Media), Innovation (Medium Innovation), Social (Single Platform Campaign)
Bronze
Canadian Down Syndrome Society, "Down Syndrome Answers": Public Relations (Cause)
Ontario Tourism Marketing Partnership, "Where Am I?": Integrated Campaign
The Young Astronauts: 2 Gold
Gold
OVO Sound, "Drake's Views": Digital/Mobile (Websites), Social Media
Rethink: 1 Gold, 2 Silver, 1 Bronze
Gold
Starlight Foundation, "Ward+Robes": Brand Partnerships & Collaborations
Silver
Branch Out Neurological Foundation, "Stranger's Voice": Audio (Radio)
WestJet, "Desert Roulette": Events/Experiential (Other)
Bronze
Costi Immigration Services, "Ahlan Bear": Innovation (Product Innovation)
Leo Burnett Toronto: 1 Gold, 2 Silver
Gold
IKEA, "Cook This Page": Brand Design (Direct)
Silver
IKEA, "Cook This Page": Out of Home (Poster)
Smith Restaurant + Bar, "Brunch Your Way": Brand Design (Brochures)
Lg2: 1 Gold, 1 Silver, 2 Bronze
Gold
Rethink Breast Cancer, "Give-a-Care": Direct (Print/Mail)
Silver
Rethink Breast Cancer, "Give-a-Care": Brand Design (Packaging)
Bronze
Farnham Ale & Lager, "Arnold": Audio (Radio)
Rethink Breast Cancer, "Give-a-Care": Integrated Campaign
Cossette: 1 Gold, 4 Bronze
Gold
SickKids, "VS": Integrated Campaign
Bronze
Léger Marketing, "Ovation": Brand Design (Corporate Identity)
SickKids, "VS": Public Relations (Brand Development)
SickKids, "VS – DadStrong": Film (Short Form)
SickKids, "VS – MomStrong": Film (Short Form)
Skin and Bones: 1 Silver, 6 Bronze
Silver
SickKids, "VS – Undeniable": Film Technique (Cinematography)
Bronze
SickKids, "VS – Undeniable": Film Technique (Direction), Film Technique (Editing), Film Technique (Music)
SickKids, "VS – MomStrong": Film Technique (Cinematography), Film Technique (Direction), Film Technique (Music)
BBDO Toronto: 1 Silver, 2 Bronze
Silver
Take Note, "Notes": Branded Entertainment (Film)
Bronze
Take Note, "Notes": Film Technique (Direction), Film Technique (Music)
Edelman Canada: 1 Silver
Silver
HP Canada, "In The Head of a Hacker": Film (Other)
Sid Lee: 1 Silver
Silver
Fuel Transport, "Fuel Transport Branding": Brand Design (Corporate Identity)
OneMethod: 2 Bronze
Bronze
OneMeth Goods, "Canadian Apparel": Fashion (Events/Experiential), Fashion (Partnerships & Collaborations)
FCB/Six: 1 Bronze
Bronze
Drug Free Kids Canada, "The Call That Comes After": Direct (Digital/Mobile)
Giant Ant: 1 Bronze
Bronze
Costa Inc., "Fix Florida": Film Technique (Animation)
John St.: 1 Bronze
Bronze
Cieslok, "Text and Drive": Out of Home (Billboard)
KBS Canada: 1 Bronze
Bronze
Innocence Canada, "Living Logo": Brand Design (Corporate Identity)