Mark's French sibling brings casual into Quebec
L'Equipeur continues the retail evolution of Canadian Tire's fashion banners.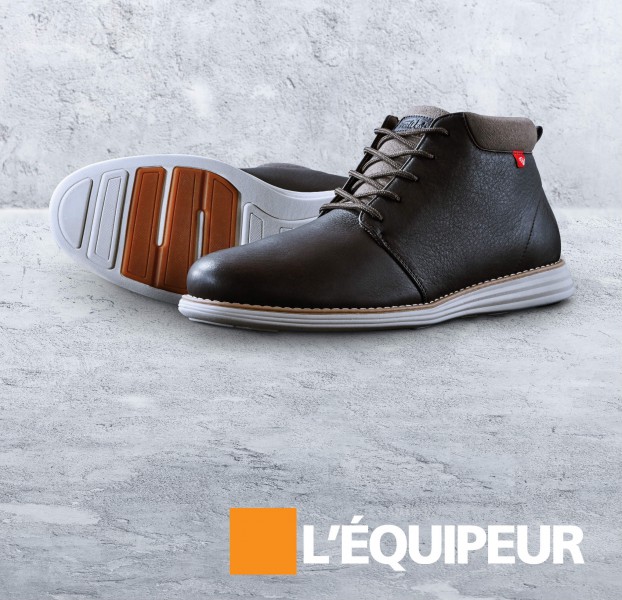 L'Equipeur, the Quebec counterpart of the Mark's fashion retail banner, is launching its first brand campaign to bolster its base of casual fashion bona fides.
The French-language campaign, from Montreal agency Cartier, bears the tagline "Equipe pour tout" (or "equipped for everything") to show the versatility of its everyday fashions. The creative aims to demonstrate how L'Equipeur clothing is fashionable but versatile, in comparison to the too-stylish options worn by some characters in the campaign's TV work. The creative also decidedly moves away from work wear, for which the store is traditionally known.
According to David Lui, VP marketing for both L'Equipeur and Mark's, the integrated campaign marks a 50% increase in marketing spend for the 46-store retail chain this year – an increase meant ensure it brings its positioning closer to where Mark's has gone in recent years. In 2013, Mark's messaging began shifting away from the work wear focus that had built the retail brand in the first three decades of its existence (it dropped the words "Work Warehouse" from its name it 2010).

Since then, however, most of L'Equipeur's marketing has remained tactical (as opposed to brand-focused) in nature. "L'Equipeur did not adopt the casual wear position back then," says Lui. "Now that we've got the rest of the Canadian market set, it's time to focus on Quebec, which is a very important market."

Victor Dagenais-Benoit, the strategic planner at Cartier, told strategy that when the agency began working on the brief, it wasn't assumed that Quebec needed its own brand platform distinct from Mark's current "Ready For This" position. But consumer research showed simply adopting "Ready For This" wouldn't make sense.

"L'Equipeur is still strongly related to work wear," Dagenais-Benoit says. "The learnings showed that most Quebecers think L'Equipeur is a Quebec brand and don't know that it's related to Mark's… We needed to establish credibility in casual wear."

Because the store's retail footprint extends well beyond Quebec's urban centres, Cartier also opted to create regional-specific messaging for the digital and OOH portions of the campaign. The agency says there are more than 220 messages in market customized to regional needs. A billboard beside a highway into cottage country, for example, would focus on outdoor wear. Dagenais-Benoit says this helped with the brand's goal of speaking to Quebecers as a Quebec brand.

Touche oversaw the media planning for the campaign.