CIBC Run for the Cure wants pinky promises
The brand shifts gears to reach donors in a crowded charity space.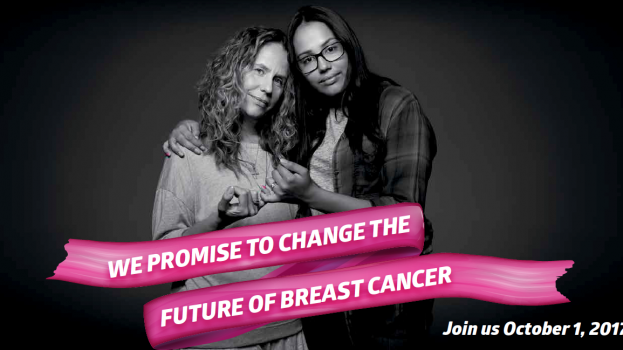 Many of us would like to give to multiple charities every year, but the number of organizations collecting donations has grown impossibly long.

The team behind the CIBC Run for the Cure, held in support of the Canadian Cancer Society on Oct. 1, knows the realities of the fundraising space all too well. So it has adapted its "Changemaker" campaign to be more upfront about the realities of the disease – but not any less hopeful.

Whereas the first "Changemaker" campaign, deployed last year, aimed to demonstrate to donors and participants that their support creates real change, this year's is centred on the idea of making a promise.

"The Changemaker campaign this year was really looking to break through to the donor by demonstrating, in much more real and authentic ways, what it's like to be going through this crisis," says Rob Assimakopoulos, SVP and chief marketing officer at CIBC. "It required 'Changemakers' to do more than just participate."

In the new creative, developed by Juniper Park\TBWA, pinky fingers painted with pink figure prominently as a symbol of participants' commitment to end breast cancer. A video spot depicts survivors, friends and families in grittier, more arresting ways. It's an attempt to engage Canadians and motivate them to become participants in the cause.

The people immediately touched by the disease tend be the most invested in the cause, says Mark Tomblin, CSO at Juniper Park\TBWA. The problem is reaching everyone else. The other issue is that while awareness of the disease has become commonplace, that doesn't stop it from being a problem.

In recent years, overall donations to charities have dropped, the result of the proliferation of a peer-to-peer donation marketplace—coupled with a rising sense of need—and growing competitiveness for a finite number of donors, Assimakopoulos says.

But despite the challenges, the fundraising goals for CIBC Run for the Cure remain "aggressive." The run has typically raised over $17 million (with the bank's employees team raising $3 million) and the organizers are hoping to "up the ante" this year, according to Assimakopoulos.

The integrated media plan includes TV, OOH, newspaper, radio, digital, social, public relations and CIBC branch assets. The CIBC has teamed up with Mediacom on media, Fuse Experiential Marketing on activation, and Media Profile on public relations. Assimakopoulus says the plan was designed to follow the wants and needs of Canadians, helping them donate online in a more simple and seamless way.

This story originally reported that the run typically raises $3 million. We regret the error.