IKEA explores the possibilities of good deeds
A new social video brings the importance of the little things into the retailer's new brand platform.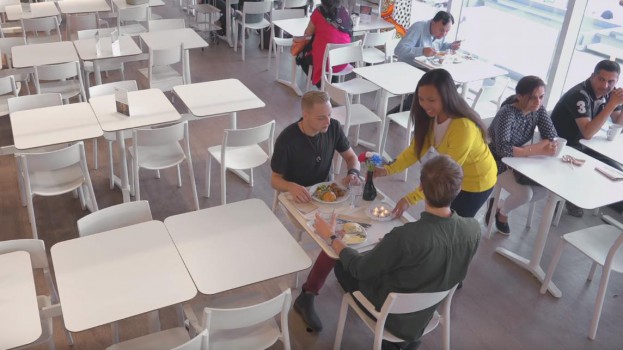 IKEA Canada has embarked on a mission to making the world a better place, and a new social video aims to show that includes little things people can do every day.

The video suggests that everyone doing the occasional good deed will motivate more good deeds and lead to a better world. It proves this by asking its own employees to get the ball rolling. At the retailer's location in Vaughan, employees do things like provide decor for customers' meals in the cafeteria, pay for an entire family's lunch and throw an anniversary party to recognize a long-time coworker.

The video was created by Rethink, with media buying handled by Jungle Media.

The video is the next installment in IKEA Canada's recently-launched "Beautiful Possibilities" brand platform. The launch spot for the platform focused on "big picture" issues like diversity, inclusion, sustainable energy and supporting vulnerable populations like refugees and the elderly to reflect the optimistic point of view IKEA wants to have about the world we could live in.

Lauren MacDonald, country marketing manager for IKEA Canada, says the idea behind the broader integrated campaign is that even little things can help people create the world they want.

"Acts both big and small all contribute to creating a better world," MacDonald says. "Our objective with all of this is to inspire and enable Canadians to see what is possible in their homes and in the world. We truly believe if we all started with small actions to make the world a little better, the world will actually become a better place."

MacDonald says the idea of "good deeds" fits with IKEA's focus on creating a better life for the "many," and anyone can do a good deed. Part of the reason behind launching this video in social channels was to share it in a platform that encouraged sharing and engagement so people might be motivated to join in to the "movement" themselves.

"One Good Deed A Day" has also become an internal initiative within IKEA Canada that began a few weeks ago, and has resulted in things like an employee at the Vaughan location giving out small toys to children in the store that include advice on how they might do a good deed for someone else.

MacDonald couldn't give specifics about what other world-improving topics IKEA might tackle in the future, but said there would be more work coming ahead of the holiday season.