Boreale debuts a new look for its specialized beers
The craft brewer redesigns its Artisan line, hoping to connect with more adventurous drinkers.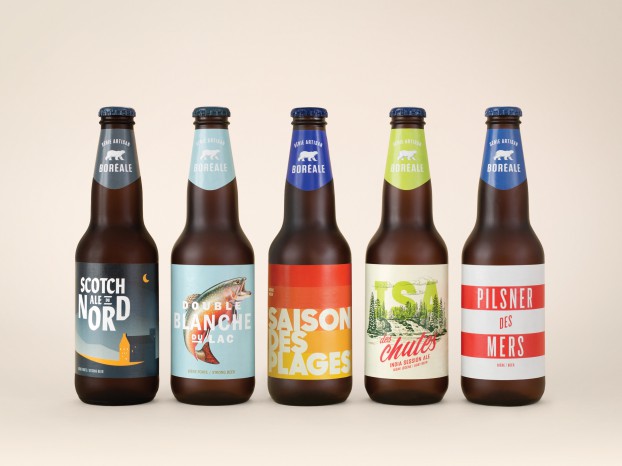 Boréale has launched a new look for its Artisan series of beers to create more of a connection with craft beer fans with more specialized tastes.
Working with agency Lg2, the craft brewer has created new visual identities for each beer in its Artisan series, as well as the new "Saison des plages." The redesign has given each beer a very distinct look that extends from the packaging to the labels, with each one subtly featuring the Boréale bear to tie it back to its master brand. From a strategic perspective, Lg2 has also helped Boréale create new names for each of the beers that are either a more clear representation of its flavour – "25″ is now "Double blanche du lac" – or help it stand out from similar products – "Scotch ale" is now "Scotch ale du nord."
Launched in Quebec in the late 1980s, Boréale has a longer history than most microbreweries in the province. But while the craft beer category is increasingly competitive, many brewers do not have large above-the-line marketing budgets. That means the battle for customers typically happens at the store shelf, making design one of the most vital things to help products stand out and catch a customer's eye.
Roughly a year ago, Lg2 did a complete redesign of Boréale's "Classic" line of beers, resulting in a more modernized version of the bear mascot many in the Quebec market had come to associate with the brand. It also featured a standardized design, with a simple colour-coding to differentiate between the beers in the line, which are more traditional, straightforward beers like blonde, IPA and dark. But the beers in the Artisan line are more niche and specialized styles. That's why the redesign for that line featured bolder and different designs, to connect with beer drinkers looking for bolder and different flavours.
"The challenge was to create a different personality for each product while ensuring they were congruent with the Boréale universe," says Claude Auchu, partner and head of design at Lg2. "The mother brand's DNA is still there, though in a more muted way, and the new artisanal side is given greater expression, whether through the open basket packaging or a customized treatment in each case."