Who are Canada's most trusted service brands?
BrandSpark's annual rankings also reveal who Canadians keep top-of-mind when it comes to retail and e-commerce.
Walmart is among Canada's most trusted bricks-and-mortar retailers in several categories for the second year in a row, while Amazon ranks highest in consumer trust across most categories in e-commerce, according to BrandSpark International.
In its second annual national study, the market research firm surveyed more than 5,000 respondents, asking them to identify their "top of mind" most trusted brands across 58 categories, including 19 major retail, 23 e-commerce retail and 16 service categories.
Walmart came out on top in three of the major retail categories, including department store, housewares/kitckenware and mass merchant categories. Shoppers Drug Mart earned the top spots in beauty and personal care, and health/pharmacy.
In e-commerce, Amazon was named the most trusted brand in 15 of the 23 categories, including books, non-perishable food and beverage, personal care, electronics and home appliances. Walmart took the top spot in the grocery/fresh food category.
For the first time, BrandSpark also released a list of most trusted service brands. Among the winners were Bell in the internet provider, Visa in the credit card and Telus in the mobile telecom categories, respectively. In several categories, two or more brands tied for the top spot (cases where the difference in total number of mentions was less than three per cent.) Best Western, Hilton and Marriott tied in the hotel brands category, while TD and RBC tied in online banking.
Take a look at the full list of Canada's most trusted retailers below.
Most trusted bricks-and-mortar retail winners

Most trusted e-commerce winners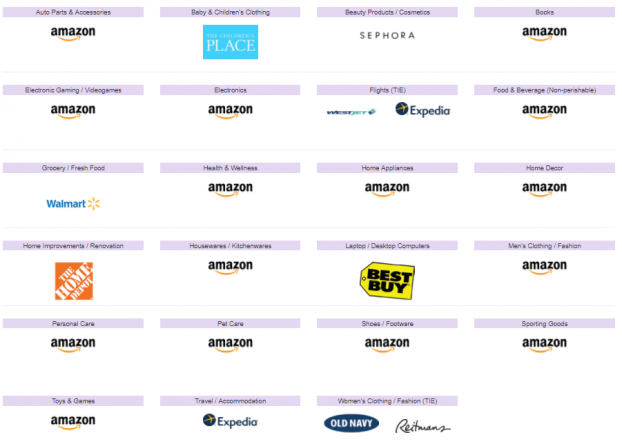 Most trusted service winners