2017 Strategy Awards: Rethinking the cancer conversation
The Give-A-Care campaign featured custom products to help young women through treatment.

Gold: Cause
Silver: Niche Strategy
For years, campaigns have spoken to women about the prevention and detection of breast cancer. But Rethink Breast Cancer and Lg2 wanted to help young women navigate the realities of a life with breast cancer, so it spoke with more than 500 women, who were undergoing treatment. These discussions revealed that they were tired of being treated like "a sick person" and desperately wanted to be understood. But when a young woman is diagnosed with breast cancer, it's difficult for friends to know what to say or do beyond giving them flowers, balloons and mind-numbing optimism.
Rethink Breast Cancer decided to create the Give-A-Care line of products (of which some were donated by brands like H&M, Aveda and Pluck Teas) to address the needs of young women with breast cancer and start a new, franker conversation about the disease, treatment and impact. The collection was made available exclusively at Giveacare.ca, where supporters could build a custom care package, with products like lemon candies that mask the metallic taste of chemo, or a front-zip hoodie that's easy to get on and off post-surgery.
All 22 items tap into unique insights, helping with the physical and emotional side effects of treatment. With products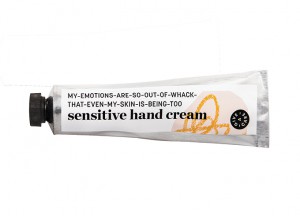 such as the "My-life-has-turned-into-a-series-of-appointments-so-please-don't-tell-me-this-is-all-part-of-the-big planner," and the "If-one-more-person-tells-me-that-at-least-I-don't-look-sick-I-may-never-get-rid-of-this headache balm," the collection offers both awareness and comfort.

Each package also includes a copy of the Care Guidelines — a booklet covering topics like premature menopause, breast reconstruction, fertility preservation and financial resources, all geared towards young women, since the bulk of breast cancer treament information is aimed at older patients.

The collection has received a positive response from the breast cancer community, with many citing this project as refreshing and sorely needed. Survivors said they wished it existed when they were undergoing treatment.

What began as an awareness campaign has turned into a permanent and expanding product line, with interest from several high-profile U.S. and Canadian retailers looking to partner.

The team attracted shoppers from more than 115 countries, and increased average donations to Rethink Breast Cancer by 565% during the holiday season. It garnered 120 million media impressions with $0 media spend. The products have also been featured in media outlets such as the Today show, Breakfast Television, Huffington Post and the Globe and Mail.

And most importantly, the campaign shone a light on the unique needs of younger breast cancer patients, and gave supporters a meaningful way to express comfort and cheer.

Credits
Brand | Rethink Breast Cancer
Agency | Lg2
Digital Planner | Meg Siegel