Paderno debuts new brand platform
Leo Burnett led the cookware brand's first campaign under Canadian Tire, aiming to connect with consumers' love of cooking.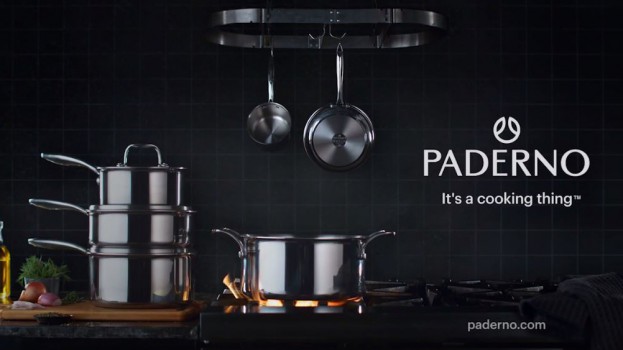 Canadian Tire has debuted a new brand platform for kitchenware brand Paderno, following its acquisition of parent company Padinox in May.

The brand's first campaign under Canadian Tire is being led by Leo Burnett Toronto, which won the business following a roughly six-week-long competitive search against two other agencies.

The new brand and creative platform, under the tagline is "It's a Cooking Thing," seeks to build on Paderno's reputation as a kitchenware company offering quality products that last, says Eva Salem, VP of strategic marketing at Canadian Tire.

But developing the creative was "a bit of a labour of love," she says. Canadian Tire found "a lot of sameness" in the cookware category, making it hard to differentiate one brand from the next. She says most brands promote either their functionality or the happiness that comes from cooking with them. For Paderno, they went with the latter, hoping to create a "lust-worthy kitchen brand."

"We knew that there are people who love to cook, and we wanted to connect with them in an emotive way about their love of cooking," Salem says. "That's what really fueled the campaign. It's this idea that the best part is in the preparation, the journey, not necessarily the presentation of the meal."

The brand is rolling out an integrated campaign that includes digital, TV and print. The online component includes 6-second ads and Facebook canvas ad. The campaign also includes two print iterations and three 15-second TV spots.

The main campaign spots engage directly with the cooking journey described by Salem by exploring the moments that make cooking enjoyable – from flipping a cake out of the pan to turning over a sizzling steak that one and only time.

The assets have been in market for the last three weeks and are running through the end of November, with the campaign picking up again next spring.

Salem says Canadian Tire went with Leo Burnett as the agency on Paderno due to its strong strategic approach to the campaign. Pomp & Circumstance is handling PR and Touche is on media.