Dairy Farmers asks: Does Santa really drink all that milk?
The organization's first holiday campaign leverages a longstanding tradition to help it connect with consumers on an emotional level.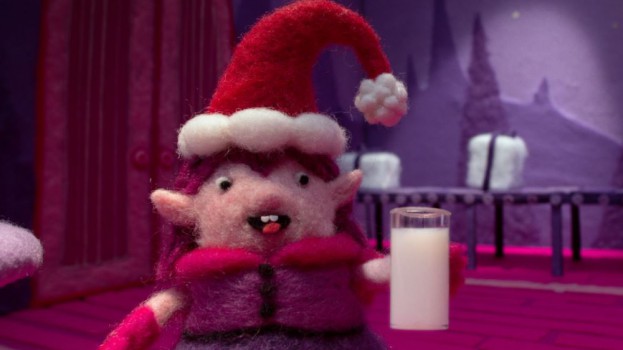 The Dairy Farmers of Canada has turned away from its broader benefits-of-dairy industry messaging to focus on building emotional connections with consumers in its first holiday campaign.

Led by DDB Canada's Toronto office, the campaign is built around a 60-second animated film called "A Glass for Santa." The stop-motion film features felt-made scenes and characters handcrafted by Bent Image Studio, a Portland, Oregon-based animation studio, and is set to Stevie Wonder's "Everyone's a Kid at Christmas Time." It stemmed from the insight that leaving a glass of milk out for Santa is a holiday cultural tradition in Canada.

The film's creators wanted to answer the pressing question of what Santa does with all that milk. Does he really drink it all on Christmas Eve? Turns out the answer is no. The spot ends with the red guy bringing back a tank-full of milk with him to share with Mrs. Claus and the elves.

"[Leaving milk for Santa] is a longstanding holiday tradition and who better to highlight that tradition than the Dairy Farmers of Canada," says Sébastien Bergeron, the DFC's assistant director of marketing. "We wanted to take the opportunity to leverage this cultural moment to connect the brand with the magic of the holidays and to connect emotionally with consumers."

Bergeron says that a seasonal campaign was not the time to drive its other industry messages that deviate from the emotional and feed-good moments of the holidays. Rather, the DFC wanted to create a commercial that would generate positive feelings among the widest audience possible, unlike other more targeted campaigns intended to promote Canadian milk and dairy products amid increased international competition.

The English-only campaign launched online earlier this week, will appear in cinemas and is being heavily promoted on Facebook and YouTube. On Dec. 16, the DFC will run a YouTube masthead takeover, planned and managed by media agency Initiative, that will take advantage of the platform's busy holiday season. Bergeron says numbers provided by YouTube show its audience spike around that time in December.

For the first time, the campaign also includes a "Merry Christmas from the Dairy Farmers of Canada" playlist on Spotify. Based on a brief provided by DDB and Initiative, Spotify curated songs consistent with Stevie Wonder's hit from the video spot. It was asked to provide an easy-listening holiday lineup featuring 50% Canadian artists and targeting women aged 35 to 54 who would likely be busy with family holiday activities, like cooking and wrapping gifts.

As with YouTube, Bergeron says that Spotify listenership is high during the holidays and that music creates a strong emotional connection with listeners, making it a good fit for the campaign.

TracyLocke Canada coordinated the shopper marketing component, which includes four ad-shelf banner ads (two near the dairy fridge, two near the cookie aisle) in a total of 1,100 retailers across Canada, including Sobeys, Safeway, No Frills and Zehrs. It will also run a digital campaign on Walmart's website from Dec. 7 to Dec. 27 with static and video banners in select Canadian markets.