How Canadian Tire evolved its approach to kids
Holiday work promoting its toy selection and Jumpstart charity brings more "fun" to the retailer's strategy.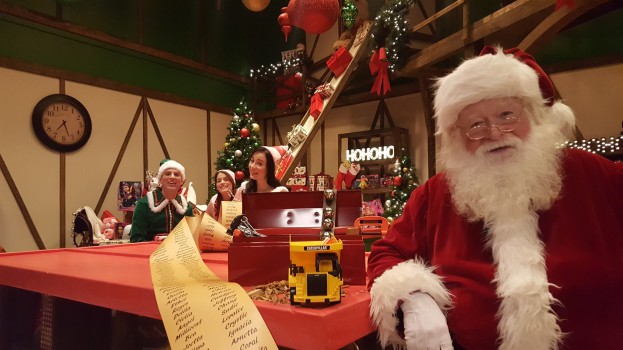 Canadian Tire wants to be a place that can give kids what they want this holiday season, including some one-on-one time with Santa.

The Red Door was first used by Canadian Tire as part of its partnership with the Canadian Olympic Committee last year, with a video screen (housed inside a painted-red door at the Olympic village in Rio) providing a live link between Canadian athletes and their friends, families and communities who were in front of another red door back home in Canada.

This past weekend at a Canadian Tire pop-up in Toronto's east end, the Red Door was repurposed to provide children with a live link to "Santa's workshop" in the North Pole. It not only gave kids the chance to take a photo and tell Santa what they'd like this holiday season, but see the inner workings of his workshop.

The Red Door will be brought to more Canadian Tire locations in Halifax, Quebec, Toronto, Edmonton and Vancouver between now and Dec. 17. Visitors to the Red Door will receive a special "Santa Beacon" that kids can place in the window to guide Santa to their homes using a flashing light and "jolly technology."

Eva Salem, VP of marketing at Canadian Tire, says the retailer used the Red Door for a smaller set of holiday activations last year, but the response convinced it to expand the program for this year. It also fits with a recent emphasis Canadian Tire has been placing on being a source for products and gifts for kids. Each location will be stocked with brands and toys the retailer has pegged as being among the most popular gifts this year – including Lego, Nerf, Paw Patrol, Star Wars, Barbie and Shopkins – with appearances of characters from those properties appearing in person.

Canadian Tire has long positioned itself as "Canada's store" and as "Canada's holiday store" during this time of year when it rolls out its assortment of lights and decor (it is also currently running content around the holiday collection of its Canvas home decor products). But over the last year -and-a-half, Salem says the retailer has also been trying to add a layer around being "Canada's fun store," focusing more on developing a product assortment and campaigns that speak more directly to children.

"If you think about it, Canadian Tire has always sold things like bikes and skates and outdoor fun and games," Salem says. "We've always played in the kids area and dominated in certain parts of it, but we didn't lean heavily into the toy part of it. We are already about reaching active families that happened to have kids, but we weren't actually doing anything that was specifically for those kids."

Salem says that since adjusting its kids focus, toy sales have grown, as has the positive perception of Canadian Tire as a source of gifts for kids. But the retailer has also changed up the approach to its children's charity, on top of the way it has for toys.

Earlier this month, Canadian Tire also launched a holiday campaign specific to its Jumpstart charity, which aims to eliminate financial and accessibility barriers that may prevent some children from participating in organized sports. The "#GiveAToast" campaign featured actual toasters that burned the faces of Wayne Gretzky, Connor McDavid or Jonathan Toews into the bread. To promote the effort – the first time Canadian Tire has pursued a digital-only approach for a Jumpstart campaign – the hockey superstars each appeared in purposely cheesy videos that poked fun at the idea and themselves.

Salem says the plan was to launch sales a week ahead of Giving Tuesday (which falls on Nov. 28) so the company could make an announcement about its donation to Jumpstart by the time the charity-focused day rolled around. However, all 10,000 toasters sold out within the first day, raising $250,000 for Jumpstart. The company has already begun looking at ways it might recreate that success next year, be it by adding other athletes to the mix or attempting to tap in to other elements of Canadiana that are meaningful to consumers, but can still be funny.

"We knew we wanted to do something that was a little bit different and cheekier for Jumpstart so it might speak to a different, millennial audience," Salem says of the approach, which broke from the more traditional and serious ways the retailer has attempted to drive support for the charity in the past. "The fact that it approached fundraising in a unique and funny sort of way was unexpected, which helped it resonate. The content was also easily shareable and newsworthy, it was why it got picked up by over 160 news outlets in Canada and the U.S. in addition to shares on social."

Canadian Tire worked with Weber Shandwick on the "Red Door to the North Pole" activation, and Community and Touche! led the "#GiveAToast" campaign.