San Rafael '71 gets a head start on cannabis branding
MedReleaf created a brand for the recreational market, and is advertising a new beer to introduce it to the public.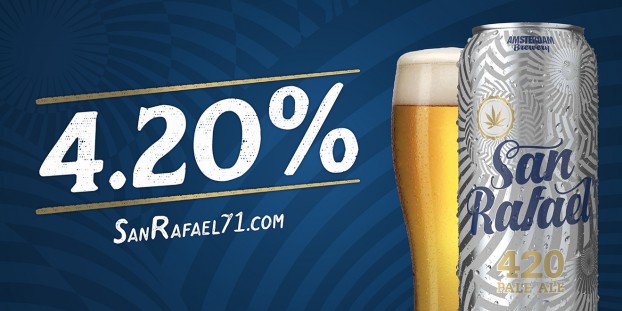 The legalization of recreational cannabis in Canada is less than five months away, and some licensed producers are in a bit of a sticky situation.
The federal government has yet to finalize any rules or regulations around how companies will be allowed to advertise their products to consumers, leading many companies to sit and wait before they can market their brands. What's more, many of these licensed producers have built their brands on reaching medical users, and may have to develop a new approach to reaching customers in the recreational market.
MedReleaf is a producer that has leaned hard on its medical chops, with a focus on quality assurance, research and patient care leading it to adopt the slogan "The Medical Grade Standard." But last week, it launched San Rafael '71, a new brand tailored to recreational cannabis users who – while using it for different reasons – are still looking for a quality product.
San Rafael '71 is a reference to the believed origins of the term "4:20″ in cannabis culture: a group of high school students in San Rafael, California, would meet at 4:20 p.m. as part of a plan to search for a marijuana crop rumoured to be hidden in their town.
Darren Karasiuk, VP of strategy at MedReleaf, says the brand is meant to embody the "classic" cannabis culture of California in the 1970s: laid-back and unpretentious, while still prioritizing quality and authenticity.
"San Rafael is for the consumer that is discerning about the product," he says. "The name itself is a nod to the genesis of cannabis culture and what that embodies, with more of a high-brow approach than many are used to."
Karasiuk says many of the things that have helped MedReleaf connect with patients will be cornerstones of San Rafael, namely the product quality that led it to be named Top Producer of the Year at the 2017 Canadian Cannabis Awards. But that is something that still needs to be communicated in a different way if its going to resonate with the recreational customer.
"When we're talking about a fundamentally different set of consumers who are consuming the product for different reasons, it makes sense to develop a brand and identity that resonates with that set of the marketplace," he says. "Through our research, we recognized there is a sizeable portion that is a classic cannabis consumer. That entire experience needs to exemplify a premium product in a way that connects with why they care about the culture."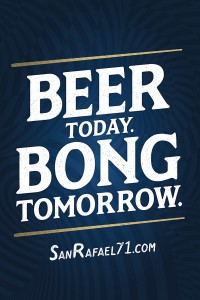 MedReleaf will be introducing San Rafael to the public at a series of parties, the first will take place on Feb. 22 in Toronto, complete with Allman Brothers and Bob Marley cover bands. But in order to introduce the brand to a wider audience, San Rafael has already launched its first product, which doesn't contain any cannabis at all.

MedReleaf has partnered with Toronto's Amsterdam Brewing to create the San Rafael '71 4:20 Pale Ale. Available in Ontario at The Beer Store, Amsterdam Brewery stores and 40 bars in the province, the beer has flavour notes of peach and pine, "giving way to spice and mild bitterness, in a nod to the cannabis experience," according to a FAQ on the San Rafael website.

The beer also does not contain any cannabis, and is a way to introduce the public to the San Rafael '71 brand while rules for advertising cannabis products are still being hashed out. But while it doesn't mention cannabis specifically, the campaign makes it very clear what San Rafael will also be selling once July rolls around. For example, out-of-home ads include lines like "4.20%" (a reference to the beer's cheeky ABV content), "grass fed" and – in what is also a fitting description of the campaign strategy – "here today, bong tomorrow."

The brand worked with Grip on the campaign, which also includes a radio ad running in key markets. True to the tone, the first 26 seconds of the 30-second ad are nothing more than a voice laughing uncontrollably.

"There's no time like the present," Karasiuk says of being among the first recreational cannabis brands to use mass, above-the-line advertising. "We wanted to take the opportunity now to get out there and start introducing the world to the brand. We figured it was a good time to do it, when interest is starting to grow in recreational usage and no one else has done anything."

Karasiuk did not say whether there would be other San Rafael '71 products released between now and July to continue to drive brand awareness. But he did say beer was "a nice fit" in terms of a product that allows for communicating what the San Rafael brand is about and appears to have an overlap in customer (pointing out that beer sales have gone done in areas where recreational cannabis is a mature market).

MedReleaf worked with Rodmell & Company to develop the San Rafael '71 brand.