Tourism Yukon urges Canadians to visit now
Why wait to visit the territory's beautiful mountainous landscapes, the tourism body asks.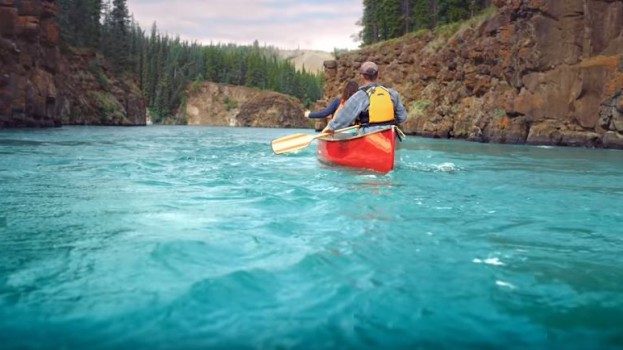 With its beautiful mountains and stunning landscapes, Yukon is considered a geographic gem, but one many Canadian travelers have difficulty putting at the top of their travel bucket list.

Around 70% of Canadians want to visit, according to Tourism Yukon, the territory's tourism body. But many say they only plan on getting there "someday." A new digital and social campaign by Tourism Yukon seeks to change that mindset by urging consumers to make the territory a travel priority.

Working with Cossette Vancouver, its new full-service AOR, the tourism body is running phase two of a campaign that launched in October with a 20-second spot showing a unique Yukon winter travel experience: dog sledding. The latest spot, launched in January and running until March, takes a creative approach that compares people's travel aspirations with their lives at work, says Robin Anderson, global marketing manager at Tourism Yukon.

The campaign includes a new website designed by Cossette. Jungle Media is on media.

Tourism Yukon has been running consumer campaigns in Canada for at least a decade. Most of its past work follows the seasonal tourism offerings of the province, with one campaign in the fall promoting winter travel, with another in January promoting summer travel. But the organization is "endeavoring to move into an always-on mindset," Anderson says.

In addition to gathering quarterly reports and statistics and monitoring economic indicators, such as retail sales, Yukon Tourism does a comprehensive visitor "intercept study" every five years. It also does focused consumer research, from which it took the insights for its latest campaign.

The research showed that the Yukon is a "highly desirable" destination to its target market segments, as a beautiful and vast mountain destination with a deep cultural history (think of the Klondike gold rush). But Anderson says initial interest has tended to wane, when would-be-travellers begin to wonder what they would actually do there. He says that thinking has often transformed into, "sounds like a place I'd like to get to someday."

Tourism Yukon is active in 12 markets worldwide, including North America. Internationally, it relies primarily on travel trade, SEO and search to drive consumer-level traffic. Anderson says it doesn't have the budget to create effective consumer campaigns considering its level of brand awareness in international markets.