Lay's records hockey emotions
The PepsiCo brand uses facial recognition to engage the NHL's massive Canadian following.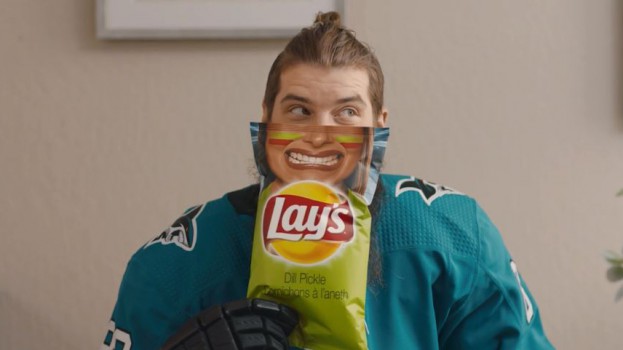 PepsiCo's Lay's is looking to tap its hockey-loving audience, encouraging fans to interact with hockey stars through facial recognition technology.

On Monday, the brand launched "Show Your Emotions," a campaign that includes an online activation where users can interact with San Jose Sharks defenceman Brent Burns and Vegas Golden Knights' goaltender Marc-Andre Fleury.

Starting at 12 pm Eastern, fans can visit the company's website, where they will be invited to record a range of expressions (with the site detecting them through facial recognition tech) based on hockey-related prompts, such as how they would react if their team made the playoffs. The expressions will then drive pre-recorded video responses, in real-time, from Burns and Fleury.

The campaign also includes 15- and 30-second TV spots (below) where NHL fans are shown watching a game alongside Burns, who poses with the brand's specially packaged chip bags.

In addition to product packaging showcasing happy, shocked, angry, cheering and nervous facial expressions, there are also social ads and in-store motorized POS, with rotating header cards running through the seven different Lay's chip bags.

BBDO led on creative, OMD on media, MarkIV on the in-store execution and Citizen Relations on PR and influencer relations.

The Canadian activation of the Lay's  "Show Your Emotions" campaign is part of a larger international platform that also features Argentine soccer star Lionel Messi. In Canada, the brand aligned with hockey to better resonate with local audiences.

Adam Day, senior marketing manager at Lay's, says the creative concept started with the insight that the "experience of watching hockey is enhanced when you show your emotions."

Lay's core demographic is "absolutely crazy about hockey," he says. There are roughly 18 million NHL fans in Canada (40% of them are women), according to Day. Of those, 70% are millennials who regularly watch NHL games. A hockey alignment was therefore a good fit for a brand that targets experience-driven, older millennials around the age of 35.

"Everything we do around the Lay's brand is based around the belief that life needs flavour, and that consumers are always looking for experiences more than anything else," he says.

In January, PepsiCo announced a multi-year extension of its partnership with the National Hockey League, giving it exclusive rights in the non-alcoholic beverage, sports nutrition and savory snack categories in North America.

A previous version of this article stated that Match led on the in-store execution. We regret the error.