Where should Renee's dressings go in the fridge?
The Kraft Heinz brand embraces its limited shelf life in its first TV campaign in several years.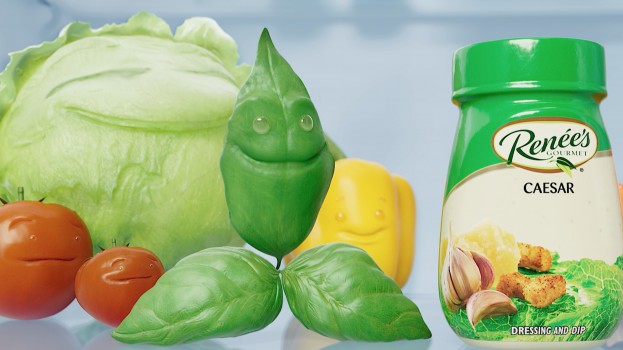 Renée's Gourmet Dressings wants consumers to think twice about where its products belong in the fridge.
The Kraft Heinz dressings brand is typically found in the produce aisle of the grocery store, far from the condiments aisle. As such, it has no business being placed in the door of your fridge, according to its recently launched "Proud to Expire" campaign by Taxi Toronto.
The cheeky, animated spot shows a jar of Renée's being placed in the fridge alongside fresh herbs and vegetables. Its arrival initiates a back-and-forth between a jar of pickles, a bottle of spicy sauce and fresher ingredients who debate where it should be placed. Ultimately, it embraces its limited shelf life and remains with the produce.
"The 'Proud to Expire' campaign celebrates the idea that a limited shelf life is actually a pretty good thing when it comes to the foods you're eating," says Nina Patel, marketing director of brand build communications and innovation at Kraft Heinz.
The campaign launched on March 19 and runs until June. It includes TV, digital and social media and is getting in-store support.
This is the first TV campaign Renée's has done in several years, Patel says. As consumer trends move towards fresher, less artificial products, the brand saw an opportunity to drive awareness around the freshness of its dressings.
Patel describes the target consumer as "the foodie with high-standards," people who have embraced products with wholesome ingredients and that contain fewer artificial ones. "When it comes to salad dressings," she says, "a lot of consumers tend to shop on autopilot and buy their dressings in the shelf-stable dressing aisle."
She adds that Kraft Heinz is always looking to put the consumer first and that leaning into healthy eating trends is one way it has sought to accomplish that.
Starcom is overseeing media duties.