Who snagged an AToMiC Award?
Winners from Wednesday's gala include SicKids and IKEA, each taking a Grand Prix for smashing advertising conventions.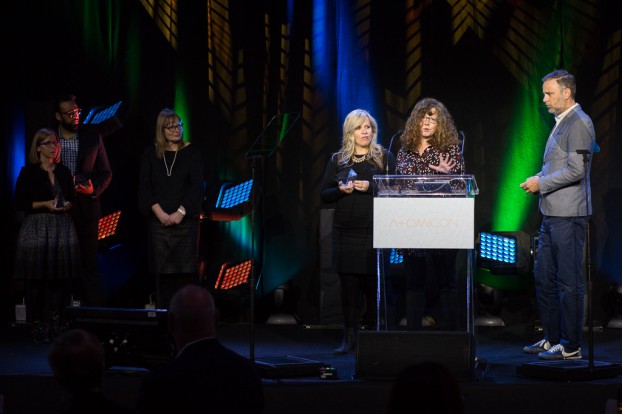 Above: SickKids' Lori Davison tears up during her acceptance speech after watching the "All In" spot by Cossette, which took home the Public Service Grand Prix; Below: Leo Burnett's Anthony Chelvanathan thanks everyone who refused to give up on IKEA's Grand Prix-winning "Cook This Page" campaign (including his mom) 
Brands are talking to the dead. They're tracking eyes and sweat glands, and hijacking television channels. Never has marketing been so personal or weird.
Last night's AToMiC Awards gala revealed a barrage of intimate, hyper targeted, and technologically innovative campaigns. The award-winning work stretched across themes from biometrics to branded content.
And there were two big toppers.
IKEA and Leo Burnett took a Grand Prix for the "Cook This Page" poster, while SickKids and Cossette took the Public Service Grand Prix for their "All In" campaign.
The "All In" campaign left with a bag-full of trophies – two Golds and another two Silvers – while its individual and emotionally charged "MomStrong" and "Dadstrong" spots each took home a Gold (along with two Silvers and a Bronze).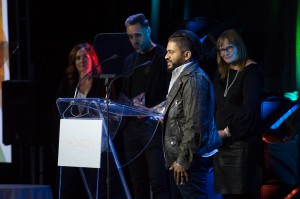 In addition to its Grand Prix win, "Cook This Page" also took two Golds, as well as a Bronze.

Rethink made the most trips to the stage last night, picking up four Golds, six Silvers and six Bronze awards for work created for the Canadian Centre for Diversity and Inclusion, Arrive Alive, YWCA, Branch Out Neurological Foundation, Sports Experts, Scotts' Weed B Gon and WestJet created across its three offices.

Bensimon Byrne, OneMethod and Narrative left with more trophies than it had people to carry, taking home two Golds and two Silvers for the Casey House HIV pop-up resto, to go with its Silver win for Svedka Vodka.

Other Gold winners include BBDO for Take Note and the Ontario Ministry of Health and Long-Term Care; KBS for Innocence Canada and World Vision; UM and Anomaly for Budweiser; FCB for the Canadian Down Syndrome Society; and Klick Labs for Klick Health.

Strategy developed the AToMiC Awards, in consultation with a pan-industry advisory board, to identify groundbreaking ideas and programs across Canada's mediascape. The winners, chosen by a jury of digital, TV, agency, marketing and media execs, offer innovative examples of how to engage audiences with fresh ideas, on multiple screens and in new environments.

For the the full list of winners and their case studies, check out the AToMiC winners page here. Starting next week, strategy will be posting stories from the April 2018 issue, highlighting how these ideas challenged advertising conventions.