Barrows' data-collecting pop-up
An activation for Pure Leaf shows how the shopper marketing agency's modular design helps generate insights.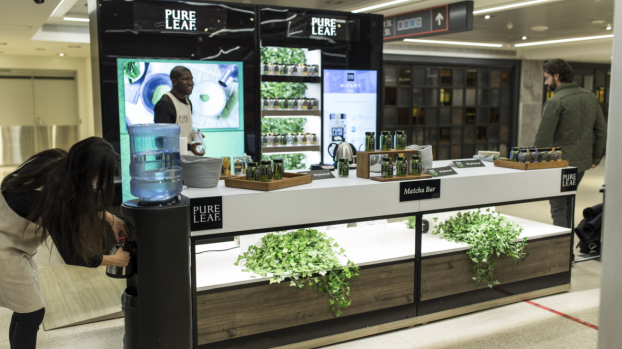 Trendy pop-ups are typically used to spur conversation or buzz, resulting in a couple of weeks of publicity. But Pure Leaf's new pop-up does a little more than that.

As a hot drink, the premium tea brand wanted to leverage the country's recent cooler-than-average spring temperatures. Located at Union Station, Pure Leaf's bar space was not only used to promote its popular green Matcha drink through sampling, but also to gather data to track engagement with the brand. To do this, the pop-up is equipped with Samsung technology that helps track real-time information, including dwell time and audience demographics.

Shopper marketing agency Barrows led the execution of the pop-up for the Unilever brand using one of its rentable modular structures.

The structure is used to create branded experiences that companies can essentially customize overnight, says Steffen Schenk, VP partnerships & innovation. For example, a multi-brand parent company, such as Unilever, can execute for two to three months and rotate the experience every two weeks from Pure Leaf to Dove to Axe. Schenk says 80% of Barrow's work is with CPG brands.

Developed a year ago, and launched at CES, Schenk says the system allows brands to combine the physical interaction of bricks-and-mortar with the data-collecting perks of digital.

Cameras are added to the booths to collect data on age, gender and ethnicity of the people coming through the space. It also uses heat mapping to understand traffic and what products people interact with. Through the heat mapping, brands could, for example, test three different types of shoes to determine which one people gravitate towards, adds Kristen Chong, senior client service manager.

Soon to be added to the space, screens will present different content depending on the audience in the booth. "If we know men between the ages of 25 and 35 are coming through, the screen is going to change to something relevant to that demographic," says Schenk.

For the Pure Leaf pop-up, Barrows also added home delivery using Amazon's scan-to-buy service, with screens taking a consumer through the steps before purchasing the tea product and having it shipped to their homes.