Rethinking retail engagement
How going outside the box helped brands get the most out of new store concepts, different platforms and small budgets.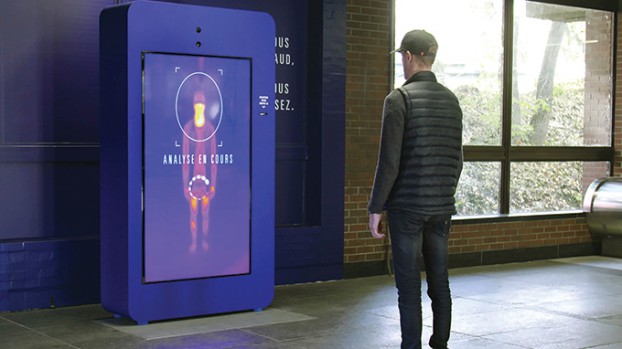 Over the coming days, strategy is taking a deep dive into the insights, trends and strategies that helped propel this year's Shopper Innovation Awards winners to success. Be sure to familiarize yourself with the full list of winners, and check here for any features you might have missed.
This story appears in the May/June 2018 issue of strategy.
Out-of-the-box and store
Any brand can place a print ad, air a commercial, broadcast a radio ad. It's another thing to think beyond the realms of static media to create interactive tech. Sports Experts has been pushing the limits of traditional marketing, creating not one, not two, but three physically engaging programs.
First, when it was celebrating its 50th anniversary last year, the brand wanted to create something that would truly support its brand purpose – which is not about celebrating extreme performance (like many sports apparel brands), but rather motivating Quebecers to discover the joy and benefits of an active lifestyle.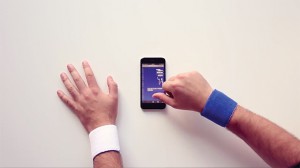 The idea was to encourage people to sweat at a time and place where they least expected: in Montreal's steepest metro station.
Working with Rethink, the brand created the "Thermal Discount" – a thermal imaging station that rewards commuters with discounts for running up the stairs and increasing their body temp. The station would measure a 13% change, for example, and then print a coupon for a 13% discount.
The installation was equipped with an infrared camera and placed on the top floor of the station, where it intercepted commuters. For eight hours, hundreds of people "won" discounts from 12% to 78%. And the initiative was captured on film for a social content piece that generated more one million impressions, 500,000 views and over 10,000 comments and shares.
This wasn't the first time Sports Experts had used a quid pro quo approach to drive shoppers to its stores. During the holidays the year before, the brand wanted people to think of it as a go-to gift destination, but first needed to educate them on its diverse product assortment. The retailer did this by creating a live, interactive crane game (similar to of those found in bars and arcades) that encouraged Facebook users to play in exchange for Sports Experts products.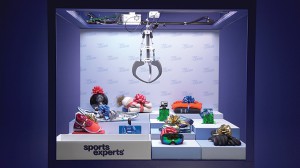 Using Facebook Live, people had to collaborate with each other in order to position the crane (using emojis for "like," "love," "wow," and "laugh") before releasing it to capture a prize. Each item that was caught by the virtual crane was then randomly awarded to one of the participants. People could win swag ranging from GoPros to FitBits and sports gear.
A few sponsored stories and media partnerships with fashion, sports and tech blogs promoted the four game broadcasts, each lasting 60 minutes. In total, "Grab-a-Gift" generated 2.2 million impressions and the average viewing time surpassed the eight-minute mark. During that period alone, sales increased 15%.
And, finally, tapping into its sponsorship of the Montréal Marathon, Sports Experts engaged runners with a program that went beyond giving away goodies.
The brand also decided to activate its partnership before the event, and went beyond marathoners, targeting those outside of the race as well. Even though people recognize the feat of running a 42.2 km marathon, most will never try it. So Sports Experts challenged them to try a different kind of marathon – one that takes on a simple device, the smartphone."The Scrolling Marathon" is essentially a scrollable website that runs the length of 42.2 km (or 159 million pixels). To complete the digital marathon, people had to scroll through the entire site for the chance to win equipment and racing clothes. A chronometer tracked participants, with each one ranked once the two-hour session came to an end.
Thousands entered the marathon in less than six days. And visits to the site saw a double-digit increase, while sales in running were up compared to the previous year.
Transforming in-store with fintech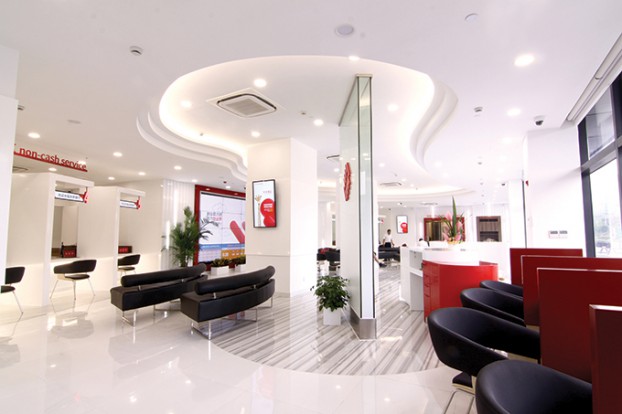 Banks are racing to become digital-savvy, just like the customers who shop the category.
China Zheshang Bank got wind of the trend happening within banking, as more transactions happen online and threaten the existence of physical branches.
CZ Bank worked with Shikatani Lacroix to re-envision its locations with a tech bent that would rival consumers' growing appetite for digital services.
The new contemporary branch (which was created in locations across China's biggest cities) was created to allow CZ to connect with consumers on an emotional level, instead of competing on size or price. The concept features a vibrant building exterior, with digital signs promoting its latest services.
Inside, benches are located throughout and include tablets so that customers can browse the wide range of CZ Bank's services. Semi-private business pods allow employees to speak with customers, while a VR zone lets people talk to a virtual banking concierge or relax in a beautiful park setting.
The concept store also has a VIP wealth management area for customers who want to explore the bank's investment services and ATMs are surrounded by glass walls for privacy.
The flagship prototype branch opened in Beijing in November 2016, and the new design will roll out in more than 150 branches, increasing foot traffic and new accounts.
Targeting shoppers on a shoestring budget
Penny-pinchers and budget-stretchers can go far in a business where more is being asked for less (especially if it leads to positive ROI).

When you only have $10,000 to get millions of Canadians to remember to use their WD-50 (instead of letting it gather dust), a resourceful idea is required. That's where the "Haunted Door" comes in.

Research shows that eight out of ten homes have creaky doors, but homeowners simply ignore them once they get used to the sound. Working with BIMM, the brand created the app to get people thinking about their creaky doors and WD-40 again.

The motion-activated sound-effects app was used on one of the busiest night of the year for front doors: Halloween. To use the app, people selected one of three creaky-door sounds, and then hung their phone on the inside door handle using a mailer from the brand. When the door opened for trick-or-treaters, the phone's accelerometer triggered the creaky-door sound.

The app was a media darling, with more than 100 outlets covering it in stories worth $1.4 million in earned media. And WD-40 saw a 30% increase in sales.

With a slightly larger budget (but still miniscule in the grand marketing scheme) of $40,000, Dunkaroos set out with a similar challenge of reminding consumers of its existence.

The brand had not advertised to audiences for years and attitudes towards diet had impacted the business, decreasing sales. As a result, the product was delisted in the U.S. and facing the same fate in Canada.

While the brand was popular in the '90s, most of that excitement had disappeared. There was, however, some appreciation for Dunkaroos amongst Americans with no access to the snack. Many had taken to Twitter to plead for someone to sell or gift them with a bag.

The idea was to connect Canadians with Americans who desperately wanted to get their hands on Dunkaroos through a smuggling program called "Smugglaroos." Americans could sign up through a website to have a Canadian smuggle boxes to a location near them. Likewise, Canadians travelling to the States could sign up to smuggle the product to an American.

The goal was to drive media conversations and reignite the product, which the campaign did. "Smugglaroos" was featured in the Globe and Mail, Huffington Post, Cosmopolitan, Vice, Vogue and Seventeen magazine, generating 55 million impressions (which equated to $550,000 worth of free media).