Real world meets social content
Bridging the digital world with physical platforms is the driver behind long-running branded content strategies.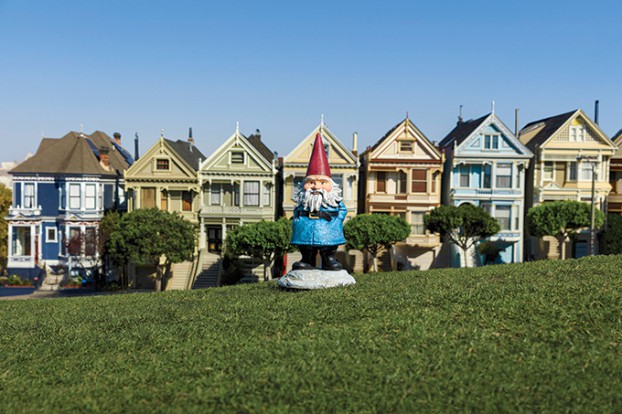 This story appears in the May/June issue of strategy.
Travelocity's 14-year-old Roaming Gnome is something of an oddity among travel agencies.
"With most travel brands there's no real relatable touchpoint, just pictures of pretty places," says Travelocity's director of communications, Keith Nowak.
The gnome's Twitter feed has more than 200,000 followers, who view pics and GIFs from his "travels" that have included stops as varied as a pizzeria in Durham, N.C.'s original fire station to the Buddy Holly Center in Lubbock, TX, as well as exotic locales like Bali.
"When we travel with the Gnome, we'll carry him down the street and it's like walking around with a celebrity," says Nowak. "People will say 'Can I get a picture with him?' It's kind of nuts." He says the same is true online, where people regard the Gnome almost as a friend.
A growing number of Canadian brands are following in Travelocity's footsteps by getting physical in a bid for consumers' attention, with products that live in the real world but also drive the brands' digital strategies.
And the physical play seems to have staying power, with a few of these programs, like Bud's Red Light, evolving over many years.
A more recent entrant, Canadian Tire's Red Door initiative – a door frame equipped with an oversized video screen that facilitates life-sized interactions between people on either side – has been taking the company's "We All Play for Canada" marketing platform to a broader online audience since 2016.
"Real-time, unedited human reactions and interactions is the stuff that drives successful content and that's what [the Red Door program] is able to do for us," says VP of marketing Eva Salem. The program saw the brand create content, from children using the door as a gateway to Santa in the North Pole, to Olympians connecting with loved ones while at the Games or during Canada's 150th.
Physical platforms, such as TD's Green Chair, have achieved a rare combination of longevity and versatility. Salem believes the Red Door possesses a similar ability. "What started as an Olympic activation in 2016 has evolved into a larger brand play," she says, adding that the brand looks at new ways to bring people together through the door.
Building something physical to take to digital was the aim in the retailer's Olympic-themed Golden Stick platform – a gold-hockey stick with a built-in counter to tally each "stick tap" made by Canadians as it travelled across the country en route to the Games. The stick eventually amassed more than 57,000 taps, a signal of respect, before arriving in South Korea, where it was featured in a short segment during CBC's coverage.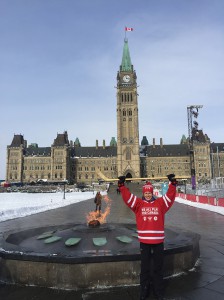 "We wondered, 'What is an interesting way to connect athletes with the communities that helped them get to where they were?'" Salem says. "It was a way of bringing to life the values of 'We all play for Canada.'"

Budweiser's Red Light has been making its way across retail, digital, social and TV, in the form of a giant light and beer pitcher since 2013.

"The ambition was always to develop a full content plan," says Todd Allen, VP of marketing at AB Inbev. "We were excited about the response, and the creativity that came with being able to continually extend the idea into new channels."

Recently, the Red Light has led to a partnership with On the Bench, a pair of seemingly hapless hockey players (actually two minor hockey coaches from Alberta) who teach what they call the "fundies" (i.e. fundamentals) of hockey to more than 375,000 Instagram followers.

In the lead-up to the Olympics, the duo appeared alongside Canadian hockey luminaries including Wayne Gretzky and Paul Henderson in an online video promoting a gold-plated five-year anniversary edition of the Red Light (which sold out its entire run of 2,000 at $399 a pop, along with another 10,000 "Goal-Synced Glasses").

The video had the stars and Canadians gather together to sing "This Little Light of Mine," but changed the words to "This Red Light of Mine." That musical number was watched 10,000 times, while the Wayne Gretzky anthem spot has more than three million views.

Budweiser partnered with the NHL Players' Association (NHLPA) to use an image of the Red Light in an ongoing feature called #FirstGoal that celebrates players' first career goal.

Elsewhere, online videos have chronicled the journey of a 25-foot tall replica of the Red Light in the Canadian Arctic, while its counterpart, the Goal-Synced Glass, was promoted at retail.

"[The Red Light] was an awesome way to springboard into content for us," says Allen. "Earning consumers' attention, versus interrupting them or just paying for it, is the new mantra that marketers should have.

"We have a mindset of 'How do we earn consumers' attention?'" he adds. "Things are happening in the beer category's passion points and conversations are being had, so how do we insert ourselves into those conversations in an authentic way, and add value to people's lives?"

As more brands gravitate towards the idea of "phygital" marketing, companies that can help facilitate the move are springing up. Mark Stewart, who heads Toronto's WonderMakr, says that he started his shop two years ago as a way to help brands bridge the divide between the two worlds.

"We did so much online that we were starting to lose our connection with people at events," says Stewart, who was director of digital at The T1 Agency, an experiential marketing company. "By creating new platforms and technologies, we found a way to bridge those worlds."

WonderMakr has developed projects that range from a cucumber organ for Hendricks gin, to a user-controlled holiday sculpture at Toronto's CF Sherway Gardens and "social vending machines" for clients including Air Miles, IKEA and the CBC.

Stewart says WonderMakr's creations are designed for brands to capture content or to encourage consumers to share the experience via social.

"Getting people to [share content] is harder and harder, so [brands] have to up their game in terms of the physical experience… It's getting people to step outside of the ordinary," says Stewart, whose company worked with Canadian Tire to develop the Red Door.

Salem says the Red Door continues to impact key metrics around areas such as sentiment, engagement, awareness and impressions two years after its debut.

"If they're able to see something they haven't experienced before, the content capture is almost inevitable," adds Stewart. "When something like the Red Door opens, there's not a person that doesn't want to stop to try it."