L'Equipeur renews push for casual wear in Quebec
Mark's French counterpart turns to influencers in the second iteration of its "Equipe pour tout" platform.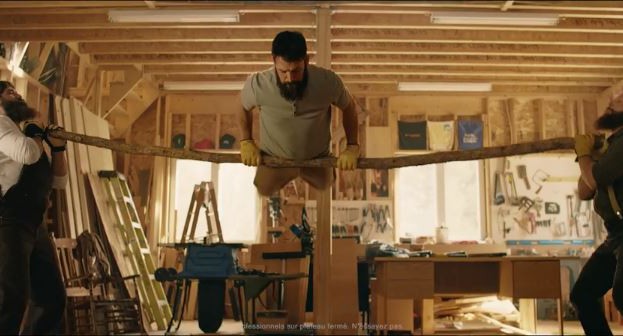 L'Equipeur is building off its "Équipé pour tout" platform with a new ambassador-driven campaign for the Quebec market.
The French counterpart of fashion retailer Mark's launched the French-language platform last year with the help of Montreal agency Cartier to help position the brand's 46 stores as the destination for casual clothing. Much like Mark's, the retailer is historically known for its selection of work wear, but has broadened its assortment and made supporting its casual wear a priority.
This year's campaign features six ambassadors who L'Equipeur believes embody the brand's values of durability and strength, such as singer-songwriter Clément Jacques, the founder of the Fjord distillery and filmmaker Matt Charland (who directed the TV spot), among others. While Mark's has used influencers in the past, it's the first time the L'Equipeur banner has in Quebec.
The minute-long TV spot focuses on the authenticity and work ethic of the ambassadors, who, while lesser-known outside Quebec, have strong resonance within the province, according to Victor Dagenais-Benoit, strategic planner at Cartier.
"We want to make sure that with every ambassador, every story told, you can see the passion and the pleasure behind the craftsmanship or the passion that the ambassador's going for," says Dagenais-Benoit. "Quebecers are looking for stories that they can relate to and see themselves in."
The campaign's name translates to "Equipped For Everything" and is the Quebec extension of Mark's "Well Worn" platform, developed by Taxi, which has focused on the brand's working-class spirit and been embedded into other aspects of the brand.  "Équipé pour tout" also includes a campaign microsite where Quebecers can explore the ambassadors' stories, an out-of-home push in Montreal and Quebec City and social executions. Touche oversaw media planning.
David Lui, VP of marketing at L'Equipeur and Mark's, says the brand's strategy in Quebec is to connect with consumers emotionally, whereas it is generally more "tactical" and sales-driven across English-speaking Canada. L'Equipeur has renewed its marketing push in Quebec because it remains an important market for future growth, says Lui.
While the brand's consumer base has tended to skew towards boomers, Lui says it is now focused on building consideration with younger shoppers, aged 25 years and up. It has always tried to shift away from age demographics towards more of an "attitudinal" target.