Cannes 2018: Canada's win count up three Media Lions
Touche claims Silver, while Rethink and BleuBlancRouge take Bronze.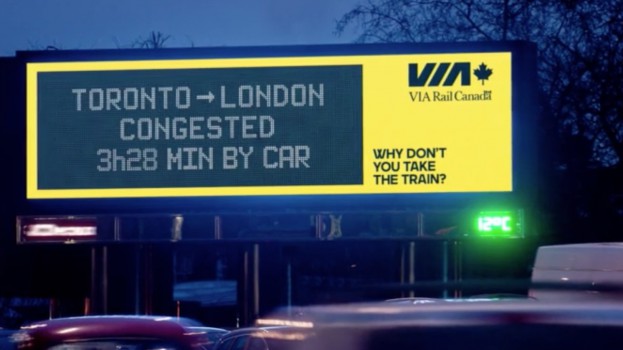 As the end of the Cannes Lions festival draws near, three Canadian agencies will soon be stuffing Media Lions into their suitcases.
With only one day left in the five-day event, Touché Montreal, Rethink Toronto and BleuBlancRouge Montreal each received one Lion for their work in the category honouring the best in media practice.
For Via Rail's "Car Vs Data" campaign, Touché took Silver in the Travel subcategory, having previously earned a Bronze in Creative Data. The win is Touché's second of the festival.
The Via Rail campaign used real-time weather and traffic data to target drivers at the exact moment they were stuck in traffic to remind them that taking the train could save them time. The effort resulted in a 11.7% increase in train ridership.
Adding to Canada's list of Media Lions, Rethink won Bronze for WestJet's "Desert Roulette" in Use of Stunts and BleuBlancRouge a Bronze for Ubisoft Canada's "Assassin's Creed — Explore Ancient Egypt" in Use of Branded Content Created for Digital or Social.
WestJet's "Desert Roulette" activation saw the airline amuse passengers en route to Las Vegas with a kilometre-wide LED roulette wheel that could be seen from the air. As they passed, the wheel spun, eventually landing on a winning seat number.
Leading up to Ubisoft's launch of "Assassin's Creed Origins," a video game claiming to offer the most realistic reproduction of ancient Egypt ever, BleuBlancRouge created an in-game guided tour to help satisfy skeptical gamers. It also developed a built-in system allowing the game's "tourists" to post shots of their trip on social media.
Tim Castree, Wavemaker's global CEO and president of the Media Lions jury, told strategy that "Car Vs Data" was a jury favourite from the "get-go."
"There was a lot in the category where data was used in interesting and insightful ways," he said. "But in terms of the quality of the thinking around this campaign, and the level of execution, it helped raise [the agencies] above many others that tried to use data in interesting ways."