In conversation with Shelley Martin, CEO of Nestle Canada
Retiring at the end of the month, the CPG exec looks back on her career and shares what lies ahead for Canadian food businesses.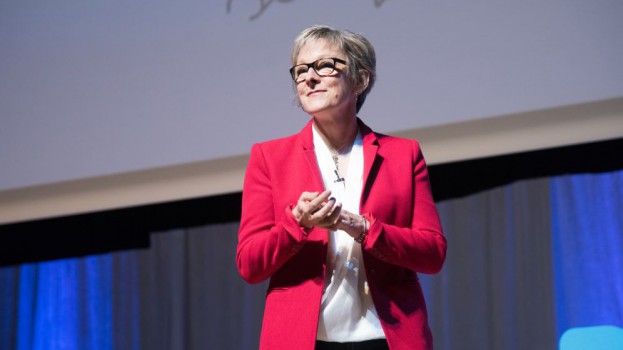 Shelley Martin, Nestlé Canada's president and CEO, retires at the end of the month after 28 years with the company.
Over the course of her career, she has served as VP of confectionary, leader of Nestlé's petcare business (where she oversaw the acquisition and creation of Nestlé Purina), head of Nescafé and beverages and president of ice cream. In 2012, she was named division executive manager of the frozen food business, and was appointed to her current role the following year. Retiring on July 31, she will be replaced by Jeff Hamilton, president of Nestlé's foods division in the U.S.
She recently sat down with strategy to look back on her career and give the skinny on what lies ahead.
What has been your top priority as president and CEO over the last five years? Have you accomplished all that you set out to achieve?
"I have my list of things that I would still do. But when I came in the priority was to get back to growing our shares and strengthening our brands. I'm proud to say that we have double digit growth on our five key priority brands, and some of those brands are 80-year old brands. We've been able to do that both through innovation and through expanding the digital interface and working with customers in a different way."
Are you able to share some examples of that innovation?
"When I think of a few recent ones, there's the KitKat Chocolatory that we executed as a one-month pop-up on Queen West in Toronto, which involved customized KitKats and the opportunity to buy one-week-only special flavoured bars. People were in line for hours, with no communication, other than a couple of bloggers. People were leaving having spent $20 on KitKats – there are a lot of interesting questions around that."
"Another one is launching [the GoodNorth brand] when we heard Halo Top's high-protein, low-calorie ice cream was coming to Canada. It was a huge brand in the U.S., and in a few short months, we developed a brand, the products and hit the marketplace."
What are the biggest challenges facing the food business in Canada? And how should companies, especially multinationals, be addressing them?
"One of the challenges is the ever-increasing cost to do business and the ever-increasing value that consumers want. Whether it's things [such as] tariffs, fuel increases, supply challenges – costs are always coming in. But it seems that in the last year or 18 months, they're coming faster and harder. But consumers don't care, so getting price increases through to offset the costs is really challenging. That makes it hard to honour our commitments to our global shareholders. It's hard to invest in new products, in communications and insight, because the margins continue to be squeezed. That's a universal challenge, and it's impacting marketing structures in Canada, which concerns me. [When] more things get implemented from afar that aren't developed in Canada, then you're not enabling and capturing what our Canadian consumers are interested in.
"The other challenge is the good and the bad of being able to segment so much. There used to be six cohorts, now there can be 600. What's the right number for your brand? Three is the e-commerce world. Consumers want to go there, but customers don't really want to, due to the costs."
Where do you think Nestle Canada's priorities will lie over the next few years as you hand over the reins to Jeff Hamilton?
"The priority will be to keep growing. According to the latest reports in the marketplace, we were one of the fastest-growing CPG for the first half of the year. It's to keep that momentum and keep growing. That will mean needing big ponds to play in. How are we going to grow the category? How are we going to work with the customers, as they redefine their business models between bricks-and-mortar and e-business and all the different variations in between?"
"[The priority is] really around innovation. We've been around for 150 years – 100 in Canada – so we know what innovation is, but doing it in a different way, whether it's innovating the business or the kind of business, that is something that we've been focusing on over the last couple of years, and I think Jeff will continue that as well."
This interview has been edited for length and clarity.