Emma Knight, Anthony Green and Hana James stand in front of the first Greenhouse store, which inspired everything from the company name to the logo to the packaging.
This story originally appeared in the October 2018 issue of strategy. Each day this week, StrategyDaily will be rolling out the magazine's Brand of the Year winners for 2018.  

On Yonge Street there's a near-constant din of screeching tires, honking horns and dinging bicycle bells. But turn off the busy street and into Greenhouse's tiny peak-roofed house, and one feels as if they've walked into the soothing calm of a health store by the ocean. With its wood floors, white-tiled walls and rows of drinks in almost every hue under the rainbow, the brand's first shop feels like something out of California, not Toronto. That's no coincidence.
Co-founders Emma Knight and Anthony Green were living in L.A. when the pair decided to export the cold-pressed juice craze to their hometown. Greenhouse started making and selling cold-pressed juice out of its little shop in January 2014. Since then the brand has grown a cult-like following in the Greater Toronto Area (GTA) and is now on the cusp of becoming a national brand. By 2020, Greenhouse aims to have 1,500 points of sale via its stores, as well as through distribution deals with shops both big and small, across Canada and beyond.
While some juice brands have floundered over the years, Greenhouse blossomed because of a unique retail strategy that saw it team up with like-minded brands. Much of the company's success in creating awareness for its brand stems from dedicated Greenhouse counters that it placed in unexpected places, like flower shops, indie cafés, bookstores and yoga studios. "We want to be everywhere our customers look," says Knight.
Along with pop-ups in places like the Art Gallery of Ontario, the brand (with Knight as its director of brand and marketing, Green as the company's CEO, and third co-founder Hana James as director of community) now has 16 company-owned Greenhouse stores, more than 100 points of sale and employs approximately 120 people. Greenhouse handles marketing in-house. The creative department includes Knight, two editors, a designer, a photographer and a stylist. It also hired a field-marketing expert to bring all direct marketing in-house earlier this year.
By mid-2014, Greenhouse was offering online retailing, subscriptions and delivery. Online purchases now account for about 10% of sales. The brand now has 10 bricks-and-mortar stores (plus six shop-in-shops with Pusateri's Fine Foods) and Greenhouse products can also be found in specialty stores, such as Pusateri's, The Big Carrot and Highland Farms. And recently, it began distributing its products in 24 GTA Loblaw stores.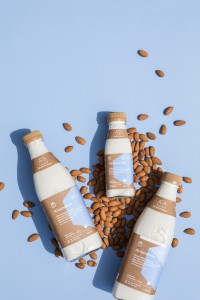 Slowly but surely, Greenhouse has evolved into a functional beverages company, selling drinks in six categories, including: cold-pressed juices, nutmilks, probiotic tonics, hydrators, boosters and shakes. Functional beverages are generally defined as any drink that claims to provide a health benefit to the consumer, such as kombucha. The global market for functional beverages is set reach an estimated $105.5 billion USD by 2022, according to Research and Markets.
Greenhouse used to compete mainly against other local juice shops, such as Elxr Juice Lab, Refuel Juicery and Village Juicery. But, as the Greenhouse brand grows and expands into new categories, it's now in direct competition with more established brands. California-based GT's Living Foods' kombucha drinks, for example, are sold alongside Greenhouse's pink-hued kombucha at Loblaw stores. The Toronto-based brand is also up against global behemoths such as Starbucks, PepsiCo and Coca-Cola, which have bought into both the fermented drink and cold-pressed juice space in the past few years.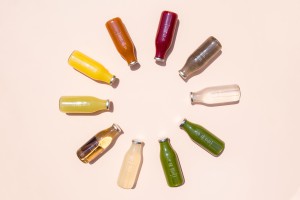 The Canadian company's Cali-cool look, from its stores to its bottles, has always been key to the brand's success. The original glass bottles, featuring a simple line drawing of its first store stamped on silver-hued lids became synonymous with Greenhouse (the logo also appears prominently on the windows of some of the specialty stores that stock its products). Each bottle (pictured at right) featured a fun flavour name, like Gold Rush, and its ingredients were listed on the front of the bottle.
Greenhouse debuted new bottles (pictured below) this year, which now have brown-paper labels, with the names and ingredient lists intact. The original branding, packaging and environmental graphics were conceived by designer, Sarah Dobson, and won a Wallpaper* magazine design award in 2015. Dobson's designs made Greenhouse instantly Instagrammable. The brand now has more than 40,000 followers on the social media platform.
"Word of mouth really helped us," recalls Knight. "And on Instagram – it was a photogenic, brightly-coloured product, [so there was a] kind of digital version of word-of-mouth."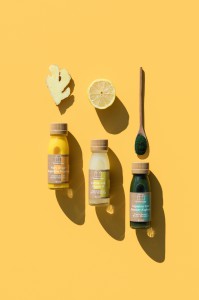 But Knight and Green aren't only focused on products that look good, they want them to taste good and make customers feel good, too. Making high-quality drinks using only natural and organic ingredients allowed the brand to sell its products for a pretty penny. When Greenhouse first launched, its products sold for between $2 for a shot and shot up to $15 for a 500-ml bottle of a green juice with nine ingredients.
A broad range of city-dwellers from hip millennials to Baby Boomers were willing to shell out, says Knight. And as the company expands outside Toronto, the co-founders are confident Canadians in smaller, suburban markets will also have a thirst for Greenhouse products. Knight, who is the voice behind the brand, takes great pains to speak to a broad base of potential customers. The ex-journalist has a knack for writing snappy copy that appears on everything from store chalkboards to email blasts to its Instagram feed. Knight's goal is to communicate that Greenhouse is a brand that welcomes everyone.
"There's been a concerted effort to just be honest and forthright and do it all with a singular voice," says Green, who used to work in the film industry in California. "At the end of the day we had initial success just by being who we are and it's just like, let's stay true to that."
In L.A., Knight didn't like the vibe of the city's many juice shops, which she felt subscribed to a militant "all-or-nothing mentality." Greenhouse aims to be inclusive and open-minded – no sanctimonious vegans in sight. Its shops have a community feel, where customers are warmly greeted, and questions and sampling are encouraged.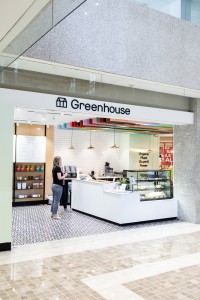 While the store design and the product packaging have been important to the brand's success, sampling at its locations has been crucial to turning curious lookie-loos into paying devotees. Knight explains winning over skeptical shoppers means she and other staff have spent lots of time "talking about what the product actually is, how we make it… It's really just been we're in the business of explaining." Knight will soon be doing more explaining thanks, in part, to Greenhouse's new 35,000-square-foot facility in Mississauga, Ont.
Back in 2014 the market was flooded with cold-pressed juice brands. Not all survived. Toronto's Union Juice shuttered in 2016. And in the U.S., Organic Avenue closed permanently in 2017.
But, there's still money to squeeze out of the cold-pressed juice category. In the U.S., the market is set to reach $8.1 billion USD by 2024, according to a report from Wintergreen Research. There are no readily available comparable stats on Canada's cold-pressed juice market, but Canadians are increasingly purchasing 100% natural juice products versus "juice drinks" (which contain up to 24% actual juice or nectars), says a Euromonitor International report.
The co-founders also want to feed customers plant-based bites, as well as drinks. There's an increased appetite in Canada for plant-based food. A 2018 poll for Dalhousie University found 7.1% of Canadians consider themselves vegetarians, and 2.3% say they're vegans. To feed this demo, Greenhouse now sells plant-based snacks. And it sells healthy meals at several of its shops, notably teaming up with Foodbenders to sell food at its Union Station store.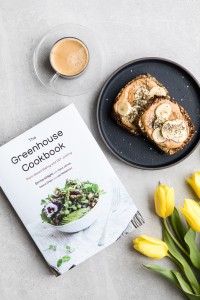 While Greenhouse remains focused on functional beverages, Knight and James co-wrote The Greenhouse Cookbook,to help position their company as an authority on healthy eating (and drinking).
As a result of its diversification efforts, earlier this year the brand debuted what it's dubbed "Greenhouse 2.0." While it was originally branded as "Greenhouse Juice Co.," new bottle labels simply read "Greenhouse," helping to clarify that the brand now sells everything from juice to kombucha to protein bars. The simple line drawing inspired by the store that started it all remains. The brand redesigned its packaging for national distribution, adding both French and English, nutritional information and bar codes. While there is more text on the packaging, the Cali-cool aesthetic remains.
And as the brand goes from a cult following to reaching a mass audience, its co-founders knew they had to drastically reduce prices, while still maintaining quality. So the company, backed by a government loan, developed a new manufacturing method called "light filtration" and it has focused on finding production efficiencies with scale, which ultimately means Greenhouse drinks now have a much longer shelf life and lower price tag. Its beverages are now approximately 40% cheaper, ranging from $2 and $8, with most  coming in at $5 a pop. Greenhouse new bottled beverages will be sold in several big and small stores outside of Toronto, from national grocery stores to indie shops.
"Our mission is to offer widespread access to plant-based products of the highest nutritional quality," Knight explains.
For now, the co-founders are laser-focused on bringing Greenhouse to the masses here in Canada. But eventually they'd like to open stores back in California, where the idea for a little cold-pressed juice shop was first planted.