Belairdirect goes beyond the stadium
In a multi-faceted "Football Simplified" campaign, the insurance company looks to reach a larger number of fans.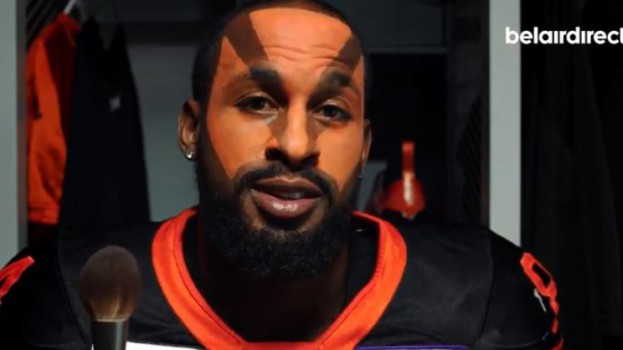 Belairdirect has significantly broadened the scope of its football sponsorship over the last year, partnering with the Canadian Football League (CFL) in order to reach more fans in and outside of the stadium.

One year after having first signed on as an official sponsor of the league, the insurance provider is leveraging fans' passion for the game, offering them a chance to win an all-inclusive package to the Grey Cup finals through a national Game Ready contest.

From Oct. 1 through to Nov. 4, fans can submit their "game-day look" on a contest website, and the brand will reward one of them with tickets to the Grey Cup finals in Edmonton on Nov. 25, as well as accommodations and transportation to and from the game.

Belairdirect has been sponsoring Canadian football teams for the last three years, starting with the Hamilton Tiger-Cats in 2015, and is currently an official sponsor of the Montreal Alouettes, the Edmonton Eskimos and the BC Lions football teams. What's different this year, says VP of marketing Humberto Valencia, is the scope of the campaign.

In the early days of its football sponsorships, the brand focused primarily on activities within the stadium, he says. But after adding the CFL last year, it began adding "other points of contact," and ran a similar contest giving away a trip to the Grey Cup in Ottawa.

The 2018 contest is being supported with a comprehensive campaign, including in-stadium activations, digital ads and OOH billboards, an influencer effort and even internal activations within Belairdirect.

Led by agency partner Sid Lee Toronto, with support from PHD Montreal on media, the "Football Simplified" campaign includes a mix of "Makeup Simplified," "Insurance Simplified" and "Contest Simplified" creative, which all tie back to a single idea: that of simplicity.

The "Contest Simplified" ads walk viewers through the process of entering the contest, while the "Makeup Simplified" spots cast football players in the role of "beauty gurus" offering tips on how to apply proper face-painting techniques. Then there are the "Insurance Simplified" ads, which show the same players asking their most pressing (and silly) insurance questions. Bringing the campaign full circle and offering what Valencia calls a "playful, educational twist," Belairdirect employees have responded to their questions on its blog.

On the influencer front, the brand has partnered with CFL host Brodie Lawson, retired football player Etienne Boulay, radio and television personality Rick Campanelli and B.C. lifestyle blogger Rebecca Bollwitt, who are creating social content based on their own game-day looks.

The brand is even engaging with VPs internally by having them do their own face-painting tutorials. The company will also be setting up face-painting stations for employees as a part of similar Game Ready contest that will see one of them to attend the game. "We always want our employees to live and breathe what we're offering customers as well," says Jennifer Beck, senior consultant of external communications at Belairdirect.

Finally, dynamic digital banners and billboards in the cities whose football teams it sponsors are being updated live, giving viewers real-time results of the game.

The idea for makeup tutorials came from the realization that getting game-face ready is far from easy for most fans, says Valencia. "Let's take something that's not easy, simplify it, and share it with the fans so that they can all bring their game-face on, well done, but that it's easy for them." That same concept is found within the contest itself, which is presented as the easiest way to get to the Grey Cup.

"We're insurance simplified, and that's the way we approach everything we do," says Valencia,  "so that's the messaging we want to highlight in the current campaign."

Its CFL sponsorship has allowed Belairdirect to speak directly to a big part of its core audience, including families and people who own homes and vehicles. While he was unable to be more specific, Valencia said football fans fall within its target demo when it comes to their age, gender and location of residence.

"We realized it's a great place to connect with the consumers we want to talk to," he says, "so we wanted to evolve from sponsoring the teams to take a broader scope." While individual team sponsorships gives brands access to fans during the regular season, that access ends with the Grey Cup playoffs, which belong to the CFL. Sponsoring the CFL as a whole "allows us to be present throughout the whole season."

Beyond "Football Simplified," Valencia says there has been "quite a change" in Belairdirect's overall approach to advertising this year. As a company, it has increasingly looked to reward safe drivers and to drive home that it's "easy to do business with us." Over the next few years, more of its messaging will be focused on that notion of simplicity.

Its most recent ad campaign, launched in September, features a bank robber whose getaway plans are foiled by an overly cautious driver who's mindful of his insurance rates. Earlier this year, Belairdirect ran its "Uninteresting" and "Insure-Vention" campaigns, reiterating the irreverent tone it has become known for in recent years.