Casinos BC comes up with more reasons to visit
The new campaign enlists Jason Priestley to cut through the clutter and increase visitation.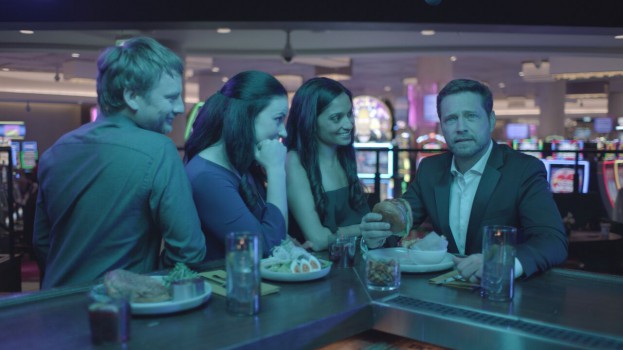 The British Columbia Lottery Corporation (BCLC) enlisted a Canadian celebrity in a multi-media campaign for its Casinos BC brand to change perceptions about what people think of casinos.

The six video spots have Canadian TV icon and Beverley Hills 90210 star Jason Priestley in different situations inside a casino – sometimes as a bit of a third wheel – like on a date, or guys' night out, to present the idea that a range of different experiences such as gambling, dining, entertainment, cocktails and dancing can all be enjoyed at the casinos. The campaign created by Taxi and Pound & Grain ends with the message "When you're open to anything, anything can happen."

Three years ago, the brand's research revealed that 60% of people in British Columbia had not visited a casino. One group of non-visitors was identified as the "selective escapist": people who were not against casinos and love to be entertained, but had not thought of casinos as an option. The brand has been focusing on targeting this group and increasing their consideration for casinos as part of its campaign strategy.

"The whole reason we are embarking upon this strategy is because, in the big picture, our goal is to begin expanding the player base and eventually drive visitation," says Natasha Gowda, marketing communications manager at BCLC.

The brand's last campaign "No two nights are the same" used the same strategy, but took a long time to reach the recall value it had hoped to achieve. "This year we wanted to cut through the clutter, have a local celebrity to try and stand out and increase the recall numbers sooner," says Julie Ivanusec, senior specialist, branding & category communications, marketing, at BCLC.

The BCLC is using two sentiments as metrics to understand perceptions about casinos – "Casinos are a fun night out" and "Casinos are for people like me." Ivanusec says getting agreement to both of those statements is necessary in order to increase consideration for visiting. "After generating consideration, it moves to the stage of planning your visit and actually visiting (the casino)," says Ivanusec.

Media was handled by MediaCom, and the campaign will run until March on TV, digital media and in resto bar ads.