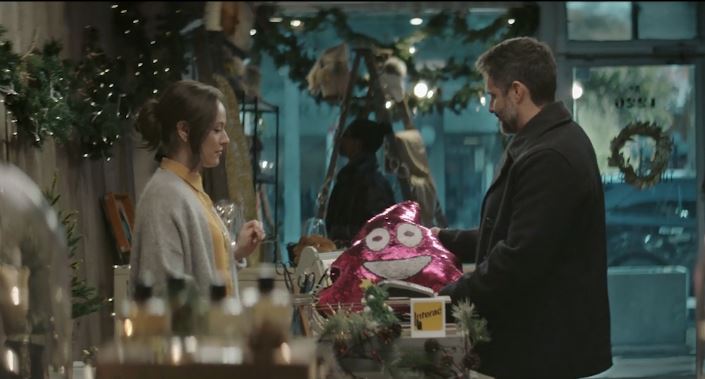 Interac's latest holiday spot opens with a man standing in line, looking a little bewildered by the strange gift he holds in his hands: a pink, sequined poop emoji pillow.
He doesn't fully understand why his niece, Sarah, would want such a thing – let alone why she will inevitably scream, "OMG, LOL, Cray-Cray" over it – but he's nevertheless satisfied with his purchase for one simple reason: he'll be using his own money to pay for it.
Since launching the "Own Your World" platform in Oct. 2017, the debit payments company has spent considerable time showcasing the many new forms of payment available, says Andrea Danovitch, AVP of marketing and brand at Interac Corp. From paying via mobile phone or smartwatch, Interac wants consumers to be in complete control of their money. That brand promise came in response to more competition across the increasingly tech-heavy payments space.
But for the holidays this year, the brand is using the occasion to remind customers that using Interac means spending money you actually have, says Danovitch, a message more prominent in its previous debt-centric "Be in the Black" positioning. The holidays, when gift giving and spending are at their highest, is the perfect time to focus more on that element of the brand's message, she says.
The TV spot, created by agency partner Zulu Alpha Kilo and running until the end of the year, is being supported with OOH billboards featuring candy canes that form a heart, replacing the word "love" in "Love Spending Smart," and garland forming the shape of an "O," as in "Ode to not Owing." The campaign also includes in-mall posters, in-cinema takeovers and a range of social and digital executions, with buys handled by Media Experts. All assets revolve around a consistent but holiday-specific brand message: "Buy it for them. Do it for yourself."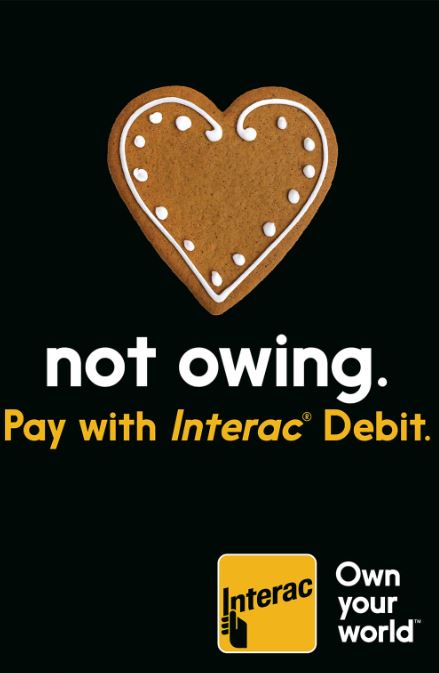 Last year's holiday TV spot featured a musician playing tunes on the street corner, imagining a scenario in which passersby want to show their gratitude but find themselves without change in their pockets. The spot was more tech-focused than this year's, showing an array of payment methods, and ended with people sending the man money by e-Transfer. It was also an attempt to create more of an emotional connection with consumers, whereas Interac has focused on an "anti-credit" holiday message in the past.
"When it comes to video, we work from a rich palette of storytelling in an effort to build a human connection," says Zulu founder and CCO Zak Mroueh. "It allows for heart-warming stories as much as whimsical ones. For this year's holidays, we considered a range of ideas. This one just happened to dial up whimsy to connect with the audience."
As part of this year's campaign, Interac partnered with the Toronto Christmas Market on a greeting cards activation. Attendees can pick up a free greeting card that they can personalize with a specific amount and send to a recipient via e-Transfer. Messages range from "The best things in life are free. Here's some money for everything else," to "Sorry about last year's present."
Danovitch says the activation is part of a broader Toronto Christmas Market sponsorship that includes an express line for Interac Flash users. The partnership gives Interac the chance to partner with a "true" holiday experience and connect with its target while they are "deep in the holiday gifting – and spending – mindset," she says.