WestJet gives Christmas Miracle a global view
The airline reunites loved ones in London, England and explores traditions around the world in its new holiday push.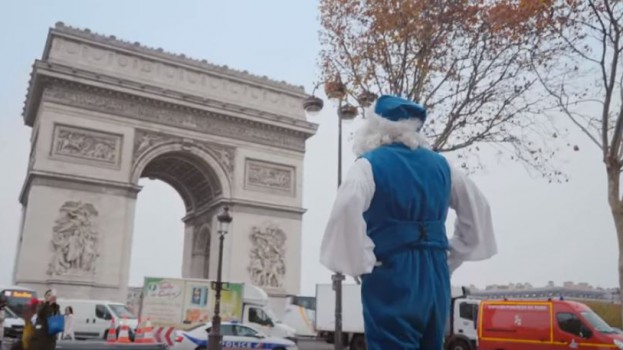 WestJet is taking its Christmas Miracle holiday campaign to foreign markets this year as it focuses on growing its international presence.
The airline debuted its annual holiday campaign on Monday with the unveiling of a Christmas Advent calendar and a "Uniting Through Traditions" spot. Whereas the former showcases holiday traditions from countries around the world, the latter reinforces the importance of spending time with loved ones during the holiday season.
The work follows new branding for WestJet unveiled in October that is meant to align with its recent global ambitions.
Over the span of a month, the company's Blue Santa figure travelled across 16 countries looking for unique holiday traditions. His discoveries will be unveiled daily between now and Dec. 25 in the form of an Advent Calendar available online. Content from the calendar is also being shared on the brand's Facebook and Twitter channels.
The first spot to be released focused on Blue Santa's visit to Haiti. In keeping with local traditions, he is seen delivering shoes to Haitian children, so that they could put them out at night with straw. Later that night, he returns, swapping the straw for holiday gifts.
In addition, during his travels, Blue Santa surprised guests by reuniting them with loved ones in London, England, capturing the experiences in a "Uniting Through Traditions" video. In the spot, WestJet reunites a long-distance couple, a pair of long-distance friends, and a daughter with her parents from Halifax.
As part of the campaign, WestJet customers can create their help create their own reunions through an online "location finder," live until Dec. 31. Through the finder, participants can enter their location and the location of someone they wish to reunite with and receive a meeting-spot recommendation. Using the tool enters participants into a draw for a trip to help make their reunion dreams possible.
The new holiday campaign follows the airline's renewed focus on experiential marketing aimed at bringing a more premium feel to the brand. That experiential work includes last summer's #WestJetSeatCity campaign, building off of past efforts in support of travel to Las Vegas.
WestJet has been running "Christmas Miracle" campaigns since 2013. Last year's execution included a series of experiences at airlines and in flights across Canada. Each was shaped by votes from Facebook followers and then live-streamed on the platform for 12 consecutive days at the end of November. And following in the "Christmas Miracle" tradition, the brand unveiled only after that the experiences themselves were based on children's conception of what a holiday miracle should look like.
The work, like in past years, was led by production and creative shop Studio M, with Media Experts leading the media strategy.