CRC 2019: Top CDs on building a strong partnership
Teams at Cossette and Rethink share the secrets to a successful work marriage that spawns award-winning ads.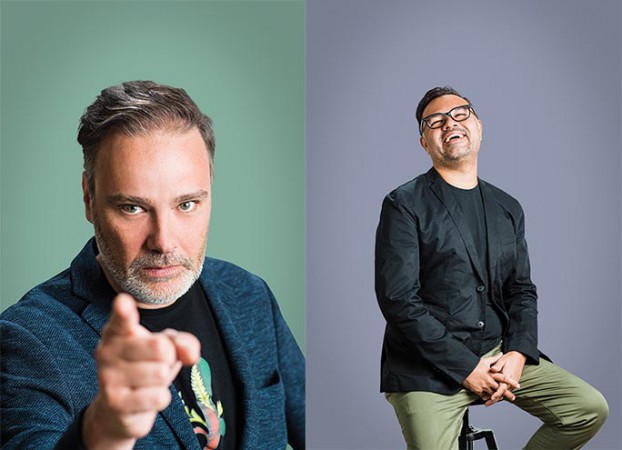 Peter Ignazi, global co-CCO at Cossette, and Carlos Moreno, global co-CCO at Cossette, have risen to the very top of Canada's ad industry via their 20+-year working relationship. Credit: Ryan Walker
You're reading a deep dive into what helped propel this year's best and brightest to the top 2019 Creative Report Card. Be sure to check in throughout the week for more, and check out the full listing of the country's top creative and strategic minds.
This story originally appeared in the March/April 2019 issue of strategy.
Peter Ignazi, one of Cossette's global chief creative officers, casually sprawls out his long limbs at one end of a conference table. While Carlos Moreno, Cossette's other global CCO, sits ramrod straight at the other end of the table in the agency's cavernous head office in Toronto's Liberty Village.
"Last year was our 20th year working together, so that was the '90s – the time of Seinfeld and Friends," says Ignazi, donning a hoodie, leaning back in his chair as he reminisces about times gone by. "And how we've worked together has evolved considerably because we started working as a creative team, just as a copywriter and art director."
"Things have evolved," Moreno, the art director of the two, concurs. "One thing I feel is very lucky to have Pete every day."
"Thank you. You never told me that," says Ignazi (half-sincerely, half-joking – it's hard to tell). "It feels like we're in therapy," quips Moreno, clearly enjoying riffing with his long-term work partner.
Indeed, an interview with the creative heads at Cossette, does feel a bit like therapy for the pair, who first met at BBDO in the late '90s.
The dry-witted duo are ranked as the #1 CDs on this year's Creative Report Card for the second year running, and many of the other top creative directors have also sustained long-term partnerships that's led to acclaimed work, both at home and abroad. Craig McIntosh and Jaimes Zentil (#3 CDs and #2 AD/CWs), also of Cossette, have stayed together for more than 17 years, while Chris Staples and Ian Grais (#5 CDs) of Rethink, have stuck it out for more than a quarter century.
Having team leaders with strong chemistry has proven very good for business.
Cossette hired 205 staff, 73 of which were creatives, across its six Canadian offices last year alone. The agency has also undergone a creative renaissance since Ignazi and Moreno joined in 2015, with the shop eventually taking home a prestigious Grand Prix at the Cannes Lions International Festival of Creativity for the #3 brand McDonald's Canada and its "Follow the Arches" campaign in 2018.
And out on the West Coast, Rethink has added to its creative teams in Vancouver, Toronto and Montreal. It also won accolades for four of the top 20 brands on this year's list, including IKEA (#7), WestJet (#8, FGL Group/Sports Experts (#9) and YWCA (#20).
The business and creative growth of both Cossette and Rethink is, thanks, in part, to the level of trust and confidence that the CRC's top six CDs have all cultivated, allowing them to get to braver work and to sell it through.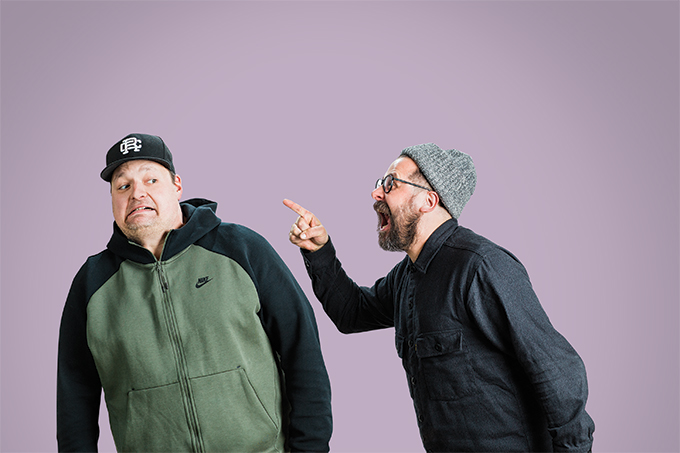 Craig McIntosh (left) gets an earful from the usually more subdued Jaimes Zentil at a recent photoshoot at Cossette's Liberty Village office.  Credit: Ryan Walker

McIntosh and Zentil were "thrown together" as interns at BBDO in 2000 and worked their way up to ACDs at the agency, before following Ignazi and Moreno over to Cossette in 2015 as CDs.
"It's pretty rare," says McIntosh of his very successful long-term work partnership. "It's kind of like an arranged marriage, but it did work out surprisingly. My wife [who also works in advertising] has been through 11 or 12 partners."
"It's a little bit of ying-yang," says Zentil. "We balance each other out. Having similar perspectives on things and having similar styles and interests I think goes a long way."
Zentil is very introverted, while McIntosh is more gregarious. The two balance each other out and have pumped out globally awarded creative, including the emotionally wrenching "VS" work for the #1 brand SickKids and design-driven work for McDonald's "Follow the Arches." The creative combo is so successful that the two were recently promoted to ECDs.
"They have done a great job of cultivating the culture of creativity here at Cossette, so it just made a lot of sense to elevate them to that next step," says Moreno, who adds the agency aims to promote from within whenever possible.

Chris Staples (left) and Ian Grais, who have worked together for more than 25 years, are 'collectively stronger than some of our parts.' Credit: Submitted

Staples and Grais, co-founders and co-CDs at Rethink in Vancouver, have the same philosophy, preferring to "train the puppies our tricks," says Staples. And like Zentil and McIntosh, the Rethink pair find that strong long-term work partnerships often work well between people with contrasting personality traits and skills.

"Ian and I have very complementary strengths so we're able to excel in our own sort of quadrants and not overlap too much and that means we're not in each other's way," says Staples.

"I'm much better at motivating a team and selling through ideas to clients and being involved in overall business strategy," adds Staples. "While Ian is quite Zen and very reflective and he's always scribbling in his notebook with great ideas."

"We come at the work from many different angles," says Grais, adding: "Collectively we're stronger than some of our parts."

Acknowledging differences while having a shared vision is key, adds Grais, who co-founded Rethink with Staples and Tom Shepansky in 1994. Ignazi and Moreno echo those sentiments. The pair were promoted to global CCOs at Cossette early last year and have found a new normal. That's meant downloading more of the day-to-day work to McIntosh and Zentil, while the dynamic duo spend more time focusing on their shared long-term plans for the agency.

Like all successful partnerships, having a similar set of core beliefs (which includes a thirst for creativity) is what led to all six creative leaders to climb to the top of Canada's ad industry. On the surface, Iganzi may slouch when Moreno sits up straight, but if you look deeper you'll see (and hear) they align on the things that truly matter.

"We have a vision for the work. Fundamentally we have not stopped working on creativity and that's the solution for everything," says Ignazi. "Creativity is not a risk, it's a fundamental belief here at Cossette and Carlos and I have always believed that. It doesn't matter what's going on in the world, creativity will solve it and will be the last thing that's replaced by robots."

Want to read more about winning teamwork? Check out our profiles of teams from FCB/Six and Cossette that found their way to the top of the art director and copywriter lists.