Intact gives Mitch Marner a promotion
In a series of social spots, the Maple Leafs player offers "reassurance" to co-workers as part of new duties with the insurance brand.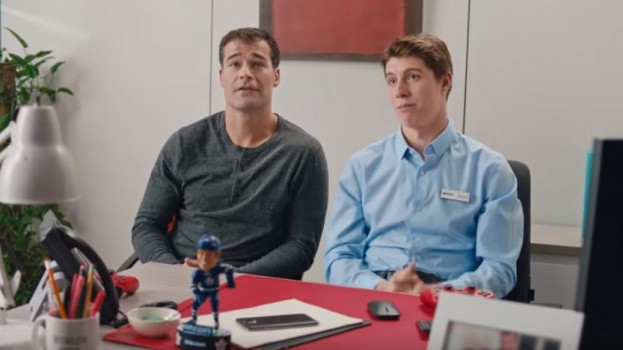 Just last year, Mitch Marner was but an off-season intern at the offices of Intact Insurance. Now, the Toronto Maple Leafs right winger has been promoted to "Head of Reassurance" at the company, where he serves as a trusted advisor to co-workers.
At least, that's according to a campaign the insurance company is running to help drive awareness and consideration among hockey fans and customers in Ontario.
Earlier this month, Intact revealed a series of digital spots featuring Marner in the company's corporate offices. Each follows a similar storyline: a co-worker enters his office in need of advice on things like how to handle pre-presentation jitters, how to cook a meal for someone special or how to get a "cool hockey nickname" (in which the Leafs' Patrick Marleau also makes an appearance). The newly promoted Marner, embracing his role, then offers sports-inspired "reassurance."
Strategically, the idea was to find a unique and differentiated way for Intact to approach its sponsorship of Mitch Marner, says Robin Monniere, VP of marketing. Whereas campaigns in that space tend to be more serious and to focus on the sport in question, Intact wanted to pluck Marner out of his typical hockey arena and place him in the context of "our playing field."
Beyond that, the campaign aims to connect with customers in Ontario in an emotionally positive way, he says. "It shows a bright and funny side to insurance, and at the end of the day we can deliver something a bit unexpected to consumers."
A December digital campaign for Aviva Canada took a similar tack to promote its team-branded insurance product. That effort featured Maple Leafs' goaltender Freddie Andersen using his athletic abilities to "save" customers from various insurance disasters.
Cossette led on creative and social, with PHD overseeing the media buy and Edelman working on earned media. The online-only ads are appearing on Facebook, Instagram, YouTube, SportsNet and other programmatic channels.
It's the second time Intact has featured Marner in its campaign. Last year's executions showed Marner, who was in need of a summer job, testing out different roles within the company. Through the effort, Monniere says Intact learned that it needed to continue leveraging the "very leaned-in" audience Marner and the Leafs provide, and to continue "bucking the trends" in sports sponsorship-based content. Moreover, it found that most people watched the ads on mobile, so it worked on channel-specific content over multiple platforms this year.
The insurance company has also been running a series of "Empathy is Everything" spots showing employees being subjected to "empathy training" sessions. However, Monniere says it will be launching a new platform in the coming weeks that maintains its "customer-first approach," while adding a new humorous element.