This story originally appeared in the May 2019 issue of strategy.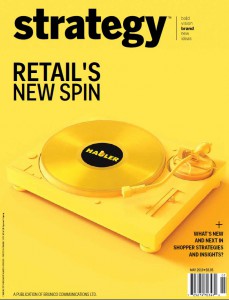 Perhaps a leopard can grow a new tail. (OK, so that's not the phrase. But if it's all the same to you, I'd like to reframe the notion of "changing one's innate nature" for the purpose of this editorial.)
CPG, shopper marketing and all those wonderful retail things are metamorphosing. I mean, a washing detergent is opening up laundromats across the Americas. If that's not a sign of retail's new spin on the path-to-purchase, I'm not sure what is.
Indeed, Tide is growing a second tail to add to its laundry empire. If you didn't hear, the P&G brand's U.S. arm announced in February that it plans to open 2,000 cleaning stores by 2020. That's not counting the delivery vans it's putting on roads. Soon, Tide workers in yellow-and-orange wear – picking up dirty underthings from condo lobbies to be washed and returned – could be as ubiquitous as thermal UberEats delivery bags are on sidewalks.
Forget being a play for better Pod distribution. Tide Cleaners (as the growing chain is called) is a whole new revenue model. To add to that, it's an extension of the brand off shelves. The pushing-nearly-80-year-old CPG can now go direct to the front doors of people from varying socioeconomic backgrounds, from students on campus to working professionals in office buildings.
Genius diversification strategies like this add to a pile of proof that the industry – if I may quote strategy's Mary Maddever in her pub note on the next page – is undergoing an identity crises. More conspicuously amongst its brand players, both from a product and an advertising POV.
Nowadays, Procter & Gamble could be mistaken for a tech company. Have you seen the Gillette "heated razor" P&G's fashioning to emulate "a hot towel shave"? Or how it's investing in Future X Smart Stores that examine shoppers' pores to make Olay product recos?
Then there are those creative advertisers – many of which come from Canada – who can't help but emulate the tactics (and glam) of entertainment/streetwear brands. One of them is the star of our cover.
Much like the vinyl revival, No Frills re-emerged to be considered "hip" by rerouting its place on the path-to-purchase. At the drop of a music track (seriously, it mixed a song, without any mention of the grocer, and seeded it out to millennials who ate it up), the brand courted discount shoppers by tapping into cultural references. "Haulers" also builds a case for the long game, crafting a brand story arc via a multi-year strategy that leads to a Grand Prix Shopper Innovation + Activation Awards win.
This issue is filled with strategies similar to these, plus the shopper trends driving the industry's new lease on retail, and a whole whack of seriously creative shopper marketing. So dig in.