UNICEF Canada outlines the rights of kids, both big and small
The non-profit has launched a new campaign to make global causes more relateable to Canadian audiences.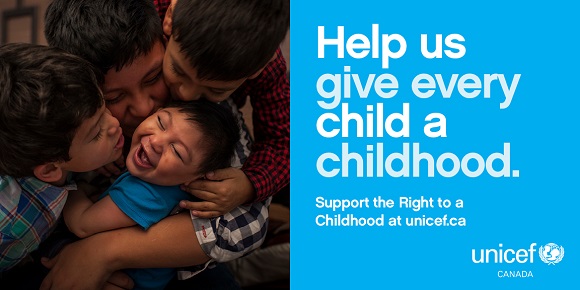 With its latest campaign, UNICEF Canada is juxtaposing nostalgic touchstones with universal rights to drive its message about global challenges home.

"The Right to Childhood" pits rights to things like clean water, doctors and personal safety against things like the right to hate vegetables, the taste of medicine and homework, showing that major issues and the "little things" western audiences might take for granted are both part of childhood.

This campaign comes as the organization honours 30 years since the UN Convention on the Rights of the Child came into being, the treaty which sets out the civil, political, economic, social, health and cultural rights of children. UNICEF is the only organization specifically cited in the document.

"It's hard to make same kind emotional plea around fundraising when things aren't very local," according to Rowena Pinto, chief program officer for UNICEF Canada, who says that while Canadians are very global in their thinking, they sometimes fall into the trap of thinking others are taking care of major issues around the world.

According to Canada Helps' Giving Report, those over the age of 45 set have had the largest decline in donation rates, and Pinto says this campaign is aimed at getting them back into the fold. However, UNICEF is also hoping this campaign ignites the passions of idealistic younger demographics as well. UNICEF is hosting a major youth activism summit in Toronto on Nov. 20, and is giving more importance to children's voices as a brand.

Its 2018 campaign, "Canada: Why We Need to Talk," focused on Canadian kids and deployed celebrities like Keanu Reeves and Cobie Smulders to draw attention to the relatively poor wellbeing of Canadian children as compared with other kids from the world's 41 richest countries. However, UNICEF has its eyes "on all of the children of the world," Pinto says, citing the group's presence in 190 countries.

"UNICEF Canada was not as present in hearts and minds of Canadians after we left Halloween in 2006," she says, and recent campaigns are about reintroducing the brand to the masses. UNICEF recently went digital with its well-known orange Halloween donation boxes.

Pinto says the intent is to take the new campaign into 2020. There also advocacy and volunteer activities aimed at taking this beyond being a pure donation play, but "survival gift" items like water pumps does tend to draw donors in the lead up to the holidays.

The campaign includes TV, OOH, social and online video content. Since "The Right to Childhood" is just launching, Pinto says there has been a bit more of an extra spend on the creative, which was handled by Juniper Park\TBWA (with sister agency Tam-Tam\TBWA handling adaptation for Quebec). PHD executed the media approach and strategy.