IKEA clears its bookcases for an Indigenous art installation
The retailer will showcase displays from the Canadian Library, a project honouring MMIWG and children, in all of its stores.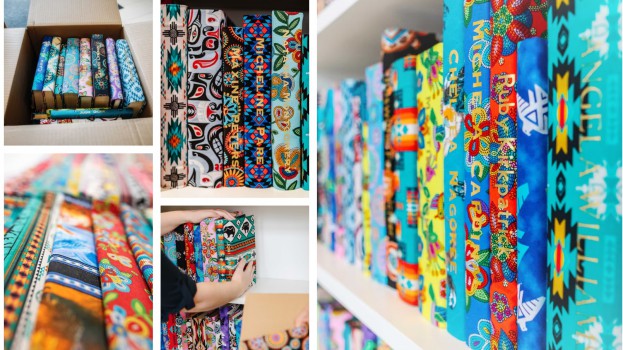 IKEA Canada is partnering with a grassroots art installation project to honour the memories of Indigenous women and children.
The Canadian Library is a living art installation created as a memorial to missing and murdered Indigenous women, girls and children. The project consists of hardcover books, each individually wrapped in traditional Indigenous fabrics. Along the spine of each of the books, the name of a lost Indigenous life – a murdered or missing Indigenous woman, girl or child – is printed in gold lettering, intended to honour the lost individual and "evoke a sense of empathy, understanding and desire to see change," the project states on its website.
As part of the partnership, the retailer will mount a Canadian Library installation on "Billy" bookshelves in each of its Canadian stores across the country, aiming to build awareness of the project and its cause, while also serving as a remembrance of MMIWG and children. "It intends to educate, create awareness, advocate and start important conversations to help towards healing and true reconciliation," the retailer says on its website.
IKEA is the first retail partner to embrace the project in such a large way. Aside from Ikea, the project's installations have most heavily been concentrated in Ontario, and primarily in public libraries, schools and other such institutions. Hello Fresh also has a library installation in its corporate office.
The project's desire to partner with IKEA sprang from the day it was first gifted a bookcase by a Canadian donor responding to its call for supplies. They purchased a used IKEA "Billy" bookcase from Facebook Marketplace and donated it to the group. While delivering the case for the installation and learning more about the project, the donor revealed that their mother was a survivor of Shingwauk Residential School. That experience drove the group's desire to pair with IKEA in a collaboration.
The installations will remain in all of IKEA's Canadian stores from Sept. 30 through to Dec. 31, during the busiest shopping season of the year.
Photo courtesy IKEA Canada.