Ford plants a powerful idea about its electrified lineup
They might not appear in the short film, but the F-150 Lightning and E-Transit were used to power the production.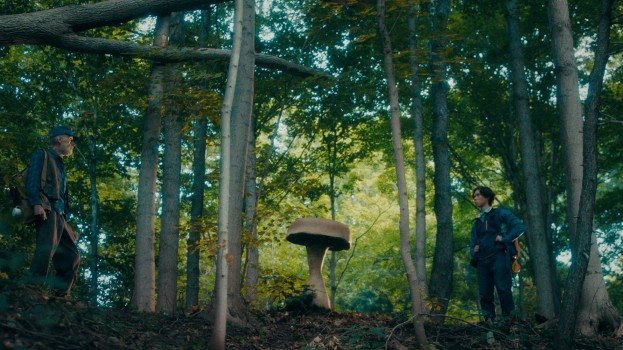 Ford Canada has released a new short film, called "Mushroom," that quite literally showcases the power of its electrified vehicles.
The film, developed with agency partner BBDO Canada, is something of an unorthodox marketing vehicle for the automaker. In the nearly seven-and-a-half minutes of runtime, not a single Ford vehicle appears. Instead, the film tells the story of two foragers – one old and grizzled, one younger and better equipped, who happen upon a unique and unusually large Matsutake mushroom in the wilderness. The men both pitch tents near the mushroom to wait for it to grow – and, hopefully, best each other in being the one to harvest it.
One might wonder what such a story has to do with Ford's vehicle lineup. The answer is that the production of the short was entirely powered by Ford electrified vehicles – namely, the F-150 Lightning and two E-Transits.
"To truly help showcase how Ford is a leader in electric vehicles and stand out from the competition, we felt it was necessary to do something that had never been done before and electrify unexpectedly," says Max Geraldo, CCO at BBDO Canada.
By focusing the story on a vegetable that grows in the dark, Ford and BBDO allowed themselves the opportunity to demonstrate the amount of energy the automaker's electric vehicles can supply by powering everything from the lighting to the camera batteries – and even the wind machines used during a storm sequence. The F-150 Lightning's Pro Power Onboard system allows it to act as a portable power supply.
"The ability to plug in and power electric items from the F-150 Lightning and E-Transit vehicles unlocks vast possibilities for what you can do with an electric vehicle and where you can do it," says Gemma Giovinazzo, director of marketing communications for the automaker.
The automaker is shifting toward electrification gradually, with plans to produce 600,000 electrified vehicles globally by late 2023, increasing to more than two million by 2026.
Mindshare handled media for the spot, which is airing on Bell Media's streaming service, Crave, as well as on YouTube.