Canada Post puts the spotlight on digital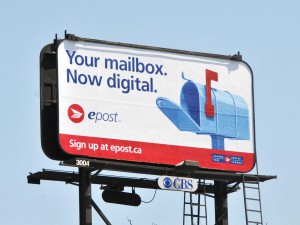 Canada Post wants people to know it isn't just for snail mail, so it's launching a multi-platform campaign promoting its ePost online bill consolidation portal across the country.
This digital push comes on the heels of Canada Post reporting a $253 million pre-tax loss for 2011, the first for the Crown corporation in 16 years. It's also the next step following the launch of a separate digital division last summer, says Kerry Munro, group president, digital delivery network, Canada Post. Munro says the service, which sits behind bank firewalls, allows users to pay all their bills from one online location without worrying that their financial information is being sent over email.
The campaign, with creative from Cossette Toronto and media by Cossette Montreal, features national print, radio, OOH, online and direct mail components and is aimed at establishing a "digital Canada" the same way Canada Post feels it developed the physical one through its printed mail services, says Michael Seaton, director, digital marketing and trade at Canada Post.
Creative for the campaign features a blue "digital" mailbox with the tagline "Your mailbox. Now digital."
Canada Post is going one level deeper with a targeted social media campaign in Kitchener-Waterloo, ON., because of the community's digitally connected nature, says Seaton. To reach the pre-lettermail generation, it's reaching out to "today's digital youth" and asking them to go online and vote for which six schools in the area should win digital Smart Boards.
Seaton says there is no set end date for the program promoting ePost, noting it will wrap when "every Canadian has two to five bills registered." Currently there are 7.5 million consumers subscribed to the online service, which is about half of the 15 million Canadian addresses that get mail.
"We feel that ePost needs to be on a continuum of constant communication, so the messaging will continue," he says.
With files from Emily Wexler.
Tags: Canada Post, cossette, digital, ePost