CASSIES Gold: Budweiser puts on the Red Lights
The beer brand celebrated NHL goals with an innovative product that brought the excitment into consumers' homes.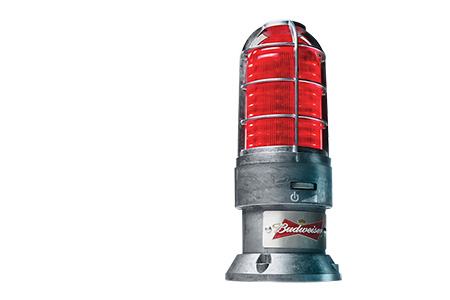 Events, Seasonal & Short-Term
Situation Analysis » In 2011, the NHL announced a sponsorship agreement with Molson, ending its contract with Labatt – a potentially massive setback. The pressure was compounded when the 2012/2013 hockey season was delayed because of a labour dispute between the NHL and the National Hockey League Players' Association (NHLPA). This left Budweiser with a major challenge: What would make the game even better for fans when the season finally started in January 2013? The answer was the Budweiser Red Light, a symbol of the best moments in hockey – the goals.
Strategy & Insight » The thinking was based on two "aha" moments. First, the excitement of a goal is in line with Budweiser's values of anticipation, celebration and camaraderie. Second, because of new technology, excitement could be captured at home. Red Lights (sold for $149 plus shipping) could be easily installed, and synched to go off every time a fan's favourite team scored.
Execution » An idea this big needed to be announced on the largest stage – the 2013 Super Bowl. In the week before the big game, 15-second teasers hinted that "hockey will never be the same." At the game itself, a 60-second spot launched Red Lights. Subsequently, new video showcased Red Lights each week, courtesy of a pre-roll media buy, the Budweiser Facebook page and through Hockey Night in Canada. Budweiser.ca was also redesigned, with video content, social commentary and an e-commerce site to buy the light. Teaser videos were leaked to the media, leading to an exclusive on the front page of the Toronto Star Sports section. Momentum continued with a cross-country media tour of Canada's seven hockey cities, along with product seeding to key influencers. Finally, although not media in the usual sense, the lights were a permanent reminder of Budweiser in the homes of thousands of Canadians.
Results » Budweiser Red Lights sold out within hours of the Super Bowl launch, and a second wave sold out in three weeks. As for the effect on the business, February-March 2013 consumption increased 17% versus the previous year, which had itself been a record sales period. Top three beer brand preference also increased 21%, making Budweiser the favourite brand of young Canadian adults for the first time in history.
Cause & Effect » The effort clearly cut through, generating 50 million+ impressions, along with ad awareness at a record 57%. Also, average monthly unique visitors to Budweiser.ca increased from about 13,200 to 451,000, and there was no other major marketing activity to prompt these results.
Credits:
Client: Labatt Breweries of Canada
VP marketing: Jorn Socquet
Marketing director: Kyle Norrington
Senior marketing manager: JR Edwards
Assistant brand manager: Alexis Smith
Manager, corporate affairs: Briar Wells
Agency: Anomaly
CCO: Mike Byrne
ECDs: Pete Breton, Dave Douglass
Creative: Mike Warzin, Taylor Twist
AD: Dave Douglass
CW: Ron MacDonald
Senior integrated producer: Jen Mete
Agency producers: Sharon Langlotz, Leanne McLellan
Executive business director: Brent Rivard
Account director: Dion Aralihalli
Account supervisor: Keltie White
Account executive: Allison Cornford
Account coordinator: Vanessa Cote
Packaging & design: Nikki Milligan
Digital design: Jonathan Armstrong
Graphic design: Omar Morson & Marie Rupolo
Product development & manufacturing: Buzz Products
Digital production: Ransom Profit
Production houses: OPC FamilyStyle/Biscuit Filmworks, Asymetric
Directors: Andreas Nilsson, Finn O'Hara
Production house producers: Donovan Boden, Harland Weiss, Dennis Beier
Cinematographers: Peter Deming, Mark Peachey
Offline editorial: Spot Welders, School Editing, Rooster
Post production producers: Patrick McElroy, Sarah Brooks, Melissa Kahn
Editors: Robert Duffy, Patrick Murphree, Aaron Dark, Christina Humphries
Conform & telecine: Shipping + Handling, CO 3, Alter Ego
Online special effects: Fort York
Audio mix & sound design: Lime Studios, Sonic Kore, Kim Christensen, Noise Digital
Music, sound & VO: Silent Joe, GGRP
PR company: Veritas: James Lamont, Melissa Retty, Amanda Gun-Munro