CASSIES Gold: TSFC takes over Twitter
The Tourette Syndrome Foundation used social media feeds to shed light on its cause.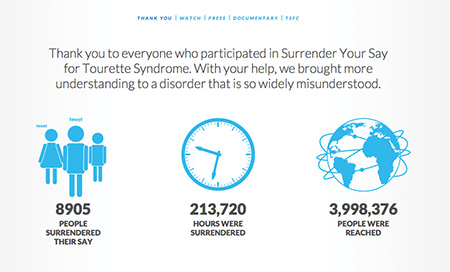 Events, Seasonal & Short-Term
Situation Analysis » Tourette Syndrome (TS) is an often misunderstood neurological disorder characterized by rapid, repetitive, sudden movements or vocalizations. Most people think it is "the swearing disease" or that people with TS are crazy. This was a huge obstacle for the Tourette Syndrome Foundation of Canada (TSFC) to overcome. Additionally, the disorder defies neat descriptions, and the TSFC, which had a very little budget, was dwarfed by well-heeled charities such as the Canadian Cancer Society, the United Way and World Vision.
Strategy & Insight » The TSFC had discovered that the more people understand TS, the more they accept those who suffer from it. Unfortunately, TS is incredibly hard to explain. This raised the question of whether there was a way for average Canadians to experience TS as if they had it themselves. And this triggered the big idea: the TSFC would give people Tourette Syndrome for
a day – on Twitter.
Execution » Through social media and a 30-second ad on donated TV, the TSFC challenged the public to give up their Twitter feeds for 24 hours on June 19, 2013. The program was called "Surrender Your Say," and by signing up, people allowed the TSFC to randomly tweet Tourette verbal tics directly into their Twitter feeds. These tics were taken from real people living with TS – so they could be weird, nonsensical, uncontrollable and potentially offensive. It was a completely new way of using Twitter and it was the first time Twitter was used to mimic a medical disorder. The tweets caused initial shock, but this melted away when people realized the effort was in support of Tourette Syndrome.
Results » The campaign lasted just three days, but it created a global conversation across multiple media. More than 1,500 people "Surrendered their Say" pre-launch (1.5 times the goal) with nearly 9,000 participating over three days (three times the goal). Tweets reached nearly four million followers (four times the goal), while visits to the TSFC website were up 300%. Overall, the campaign delivered 100 million impressions (five times the goal), which did not include impressions generated by the thousands of Twitter comments, or by the massive media coverage. Given its budgets the TSFC could not afford sophisticated tracking, but this level of response clearly equates to a major lift in awareness and understanding for the disorder.
Cause & Effect » There was no other activity which could have caused the results attributed to the campaign.
Credits:
Client: Tourette Syndrome Foundation of Canada
Executive director: Lynn McLarnon
Executive board: Kirk O'Brien, Cathy Wylie, Doug Coll
Agency: Saatchi & Saatchi Canada
Co-ECDs: Helen Pak, Brian Sheppard
AD: Rachel Kennedy
CW: Shauna Roe
Digital producers: Lisa Hamilton, Simon Conlin
Account managers: Sheraz Amin, Nick Moretta
PR/social: Sarah Campbell
Head of production: Michelle Orlando
Digital production: The Development Factory
Digital executive producer: Suzanne Abate
Digital producer: Lindy Zucker
Developer: Andrew Bodis
Editing: Bijoux
Sound: Boombox Sound
Visual effects: Track and Field