Plan shows the impact of words
The non-profit uses an interactive display and social campaign to virtually lift girls up.
International development non-profit Plan International Canada is building on its "Because I'm A Girl" campaign to show how the words we say to young girls can have an impact on their long-term confidence.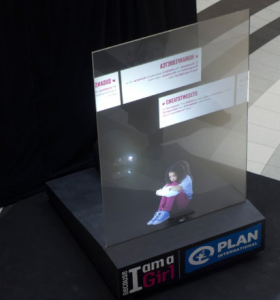 For International Women's Day on Tuesday, Plan and agency Isobar set up a 3D projection of a young girl in Toronto's Eaton Centre. For every positive, encouraging post on Facebook, Twitter and Instagram made using the #LiftHerUp hashtag, the girl stood up, but sank back to the ground and eventually sat down for every negative one. Though negativity tends to be prevalent on social media, especially when it comes to social issues and feminism, the execution garnered mostly positive responses (as have others like it).
In addition, Scotiabank partnered with Plan to donate $1 for every positive post made using #LiftHerUp, up to $30,000, a goal that was quickly met, and posts topped 60,000 by the end of the day.
The execution was part of a month-long "#LiftHerUp" campaign Plan is running throughout March. It's led by an online video where women of different ages and cultural backgrounds repeat real things said to them relating to their gender, ranging from telling them how to deal with success, assault and their personal lives. It ends on a shot of the same young girl from the 3D execution, asking the viewer what kinds of things they'll tell her as she grows up. The video, as well as the positive posts people are making, are collected on the campaign website.
Digital media planning was handled by Aber Group.
Erin Abbatangelo, director of brand marketing and communications at Plan International Canada, says the idea behind the campaign was to draw attention to how words can have lasting impact on a girl's confidence, especially in their formative years. Though Plan focuses on international development to help children escape poverty, it has been particularly focused on young girls through the "Because I am a Girl" campaign, due to the fact that it is especially hard for girls to escape poverty in certain countries. In late 2014, Plan ran a full-scale awareness campaign for the work the entire organization does (its first outside of specialized initiatives like "Because I am a Girl"), but Abbatangelo says the idea behind "#LiftHerUp" is to focus on one element behind the "complex issue" of poverty.
"International Women's Day is all about women and their empowerment, but we have a slightly different perspective because of our international roots," she says. "When girls are given the right tools and put in the right situations, it's easier for them to be confident, and that includes the things we as a collective say to them. It might seem like this is Canada-focused, but these are stories that happening around the world, as well as here at home."
Abbatangelo says the live and digital media executions are part of an overall effort by Plan to be more active in the digital space. Rather than trying to reach a particular age group, she says its more about reaching people of all ages who resonate with social and charitable issues, and who tend to be very active online.
"When you're trying to reach a wide variety of people in Canada, you have to look outside of what I call the 'CPG demographics,'" she says. "We're looking to people who are more socially and globally aware and are participating in movements and activities that go beyond talking to a street canvasser. Digital is a place where people share their voice and experiences, which is especially important when you're doing a campaign looking at words and how they can help."