DAOY Honourable Mention: Grip's digital growth
The agency cracks the top five with work for Budweiser, Cadbury and Stella Artois.
Grip occupies a well-earned place in the DAOY awards. The agency's digital revenues have grown by 34% in the year leading up to the competition, and of this, half was attributed to new business. New brands added to the agency's roster of late are AB-InBev Stella Artois, KFC and Hostess Wonderbread US. In the same timeframe, Grip's staff count has grown from 110 to 160 people.
Budweiser shows its true colours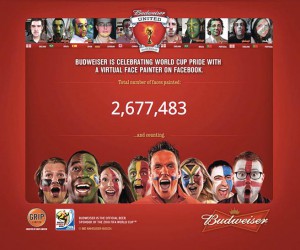 As a sponsor of the FIFA World Cup, Budweiser needed a digital program that connected with soccer fans while breaking through the clutter of the other World Cup advertising.
The Show Your True Colours Facebook app allowed fans to virtually paint their faces in the colours of their team. After uploading their picture, people picked which country they were supporting, and then chose from a range of pre-designed patterns or created their own design. The photo could be made into their profile picture, downloaded as a card or shared with friends.
Fans' completed photos were added to a mosaic of their team's flag. Users could view the 32 flags and scroll through all the uploaded fan photos. Out-of-home, transit and print executions all carried the same painted faces and referenced Show Your True Colours.
The app was originally created for Canada, but Grip was asked to build it for other regions, including the U.S., Puerto Rico, Argentina, Bahrain and Budweiser's global World Cup page.
In all, over 2.65 million faces were painted, over 960,000 people became fans on Facebook and Budweiser's Canadian sales increased 14% during the campaign.
Cadbury makes Maynards most wanted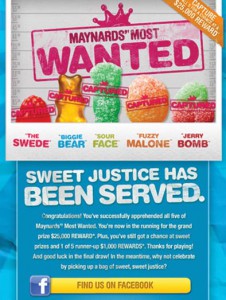 Cadbury wanted an engaging integrated campaign for its Maynards candies, which would launch the brand into social media. To target tech-savvy young adults, Grip saw an opportunity to be among the first in market with a strong QR-led campaign.
The idea was to make Maynards the most wanted candies in Canada – literally. Six archetypal "Wanted" posters were created – one for each of the sub-brand candies. They were loaded with QR and SMS tech and gave incentive (a $25,000 reward) to "capture" them all. Consumers used their smartphones to scan the OOH and capture the candy criminals. On Facebook, they could check their progress or enter the contest via product UPC. Media included a mobile website, a Facebook application, online media, email, TSAs, platform dominations and newspapers ads.
The Facebook community grew from 34 people to over 12,000 in six weeks. The brand's new fans shared stories of their captures, helped each other locate posters, and generally expressed enthusiasm for Maynards.
There were hundreds of mentions on Twitter. The pop singer Lights, for example, posted several favourable tweets about Maynards' Most Wanted to her 200,000+ followers. And CBC News covered the campaign as part of a QR technology primer.
Stella Artois' high society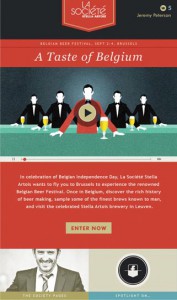 To connect with urban males, Grip redesigned La Société Stella Artois (Lasocietestellaartois.com), a "members-only society for those with a thirst for the beautiful life," which had been in beta testing.
It created a private community of Stella Artois lovers that engage with the brand, and in return, reward them with exclusive access to experiences and a host of other benefits.
To begin, the agency crafted an engaging backstory. It introduced a series of achievements, a section where members can talk to the Stella Artois Beer Master, and a blog with original content from known style, culture, cuisine and film bloggers.
A series of intriguing challenges gave the chance to win once-in-a-lifetime brand experiences. Welcome kits contained a copy of the official Member's Handbook and the Member's Privilege – a series of exclusive invitations that members can use to invite their most discerning friends.
Though still in early days at the time of submission, La Société Stella Artois had over 23,000 members, who spent an average of 6+ minutes per visit. In six weeks, members sent over 2,000 invites, left over 2,000 comments on the blog, and the community grew by more than 1,500 members. La Société Stella Artois is already being rolled out in French Canada, the U.K. and Argentina.

Jump to:

DAOY Gold: Proximity's disciplined approach to digital

DAOY Silver: BBDO's digital push pays off

DAOY Bronze: The unignorable drives John St.

DAOY Honourable Mention: Taxi's big digital fares