Unilever and P&G subsidiaries expand service-based models
CPGs tweak their retail forays with spas, dry cleaners and car washes to max out market opportunity.
It may not be a battle that's playing out in Canada – yet – but seeing three major brands expanding in the service and retail realm, one in Canada and two south of the border, could indicate that the move from the shelf to the shop is more of a focus for CPGs, as competition for aisle space limits their SKU – and shopper experience –  building goals.
Take Dove Spa Canada. Developed by Unilever Ventures, the corporately-owned spas first opened in Canada in 2008, selling eight premium skincare lines exclusively in the spa and online at Dovespa.ca, in addition to providing skincare services.
Now it's adding to its skincare collection with the release of 11 SKUs under its new bath and body line on Nov 6.
And, though new spas haven't been officially announced, one is expected to open in 2012, says Jennifer Langlois, managing director, Dove Spa Canada, and it will feature a new interior look, also coming to existing spas, that will better highlight their products for spa goers and make the retail environment more user-friendly.
Given its relative newness, it isn't surprising Dove Spa is tweaking the concept. But the rationale behind the spa was clear: entering the spa space was about creating a new category and appealing to a new market. "There is this whole skincare piece to the Dove brand," Langlois says. "But we weren't occupying the premium beauty space."
Having the spa associated with a strong sister brand like Dove was important from a business standpoint – that's why Dove Spa is in the process of rolling out its new logo in the spas and on all external communications, one that more closely aligns it with Dove by replacing the Dove bird with the word Dove in the brand's cursive script. "We were getting feedback that brand positioning was not distinct," she says. "Awareness was low, especially the relationship between the two."
"[Consumers] will connect right away with the Dove brand and they know the positive value there so they will naturally refer that over to the Dove Spas," Langlois says.  "Then conversely we deliver on strong treatments, strong services and strong premium products to help support the Dove brand."
Selling premium skincare products in a branded spa over a high-end department store beauty counter allows the spa to better control the retail and service environment, Langlois concedes, but it's also a service issue. "We interact with the guest and the consumer one-on-one. It's a great way to deliver…the value of the brand." Interacting with clients so closely also helps them learn what works and what doesn't in the spa from a retail perspective – for instance, the refurbished interiors will relocate retail displays to more prominent areas in the spa.
According to US retail consultant Robin Lewis, who recently gave a talk in Toronto and also authored the book, The New Rules of Retail, CPGs delving into the service provider space is more than a powerful marketing tool.
"The advantages are all about preemptive distribution," Lewis says. "The necessity for brands to be operating on all possible distribution platforms to get to the consumer first, faster and more often than the hundreds of other equal competitors in an over-saturated marketplace, is even more severe in the CPG space."
In the US, Agile Pursuits Franchising, a wholly-owned subsidiary of P&G, has leveraged the power of two of P&G's most powerful brands – Mr. Clean and Tide – to enter the retail service franchise space.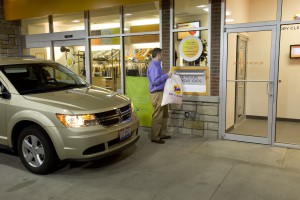 Tide Dry Cleaners, which launched the same year as Dove Spas in Canada, now has six US locations, and is open seven days a week, 24 hours a day. It offers a drive-thru concierge service, 24-hour drop-box and lockers, same-day service and alterations in most locations.
With two-thirds of the global GDP now attributed to services, and with that number growing at a faster rate than products, there's a market opportunity in blurring the line between products and services, says Ross Holthouse of P&G FutureWorks, the brand's innovation arm.
"Having the additional service has helped build the awareness and the equity for both of those brands," Holthouse says. P&G has seen increased sales and awareness in both brands based on the adjacent services (Ross declined to give more particulars on the sales piece), helped along by cross-promotion and selling in both the retail stores and franchise concepts.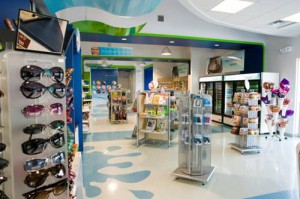 Meanwhile Mr. Clean Car Washes, open since 2007 and now with 14 locations, don't just wash cars. They also sells a host of interior and exterior car cleaning maintenance packages – using Mr. Clean products and P&G's Febreze Odor Eliminator, of course – as well as a V.I.P. Club Card. It even does oil changes. All the while customers can relax in the Comfort Lounge, where flat-screen TVs, free WiFi, premium coffee and snacks can be had. Kids can get into the branded action too. The Round Rock, Texas location sports a "wash tunnel" where kids can hang out and pretend-spray passing cars with Mr. Clean sud-soakers via floor-to-ceiling viewing windows.

"It's all about taking the 'store' and brand to consumers versus their having to go to the store," says Lewis.  "For the consumer it's wrapping them in a Tide or Mr. Clean 'experience,' which you certainly do not get in the supermarket."

So far the franchises haven't come to Canada – we're on their radar, Holthouse says – but for now the focus is on the US expansion. He says there will be more services opportunities down the road for more core P&G brands, especially given the fact that integrated consumer services and adjacencies are part of P&G's global growth strategy.