Store stops, starts & changes
In this new, ongoing Shopper Marketing Report feature, we look at how retailers ranging from Canadian Tire to Microsoft Canada are opening, closing and changing store tactics.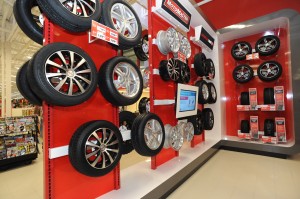 Stops
Fields is finished. HBC, which brought the value-priced merchandise chain into its fold from 1988 to 1993, has announced that it will be closing all of its 167 locations across the country. Said to be "strategic," the move is meant to allow HBC to focus on growing its other banners, including the Bay, Home Outfitters and Lord & Taylor.
In the words of Kenny Rogers, "you've got to know when to fold 'em," and that's exactly what Esprit is doing with all of its North American stores. The Hong Kong headquartered fashion retailer made the decision after failing to find a buyer for its business in the region, which has suffered from staggering unprofitability. Over four years, the brand has lost $206 million in the U.S. and Canada.
Starts
Cabela's is doing double duty in Winnipeg. The Nebraska-based outdoor supplies retailer is opening its second location in the city, a 72,000-square-foot showcase store that will open up right next to a new Ikea, both of which will be housed in the curiously monikered Seasons of Tuxedo retail development that's being built in the city.
Microsoft is worming its way into Apple country. The word on the interwebs, as initially reported by tech-focused The Verge, is that the company is planning on opening 75 new stores over the next two years, including its first international shop in Toronto, set to launch later this year. Other international store openings are apparently planned with launches starting in early 2013. At press time the report was unconfirmed by Microsoft Canada.
Sobey's continues to get fresh with Canadians. The retailer is keeping up the momentum behind the launch of its discount retail chain Freshco with the opening of its fifth location, housed in Mississauga, ON.'s Westdale Mall.
Changes
Canadian Tire is going back to basics. Deciding against pilot food sections in its new prototype stores, the retailer is pulling the plug on an ill-fated three-year experiment with grocery and is returning to its roots to tend to its tire biz more assiduously.
Walmart Canada is preparing for war and ironically the battle plan includes emulating Target's Zellers location takeover strategy. It's going to invest more than $750 million in 73 projects over the next year, fortifying its position in advance of Target's Canadian offensive by expanding, remodelling or relocating existing stores, as well as opening new ones, like the three it plans on opening in Nova Scotia in converted Zellers.
Target is saying yes to drugs. The retailer, which will be coming to Canada next year, is taking on the likes of Shopper's Drug Mart and Jean Coutu, attempting to attract independent pharmacists to own and operate franchises within its Canadian stores. It will begin its search for indie pharmacists in March.