Bell puts Quebec City first for Fibe
The telco played into the rivalry between cities to promote its Fibe internet service in the region.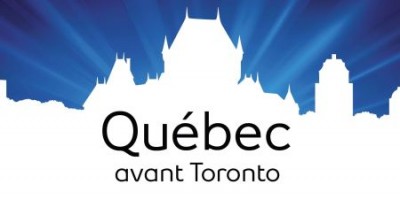 Two weeks prior to the launch of Bell's Fibe service in Quebec City last Monday, the telco posted a series of perplexing ads on whatever outdoor surface it could find.

The Lg2-created ads were placed by Media Experts to tease Quebecers with the vague message of something arriving in the city before anywhere else. Each had the same blue Quebec City skyline that settled in the background with copy that read, for example, "Quebec City avant Toronto" or "Quebec City avant Montreal."

It was nothing short of a buzz-tactic, aimed at getting people excited about the city being first to have Bell's new high-speed fibre optic technology region-wide. The telco has invested $225 million in deploying the network across the city. And while Toronto, Montreal and Quebec City all have access to the Fibe service that includes TV and home phone, only the latter currently has region-wide access to the high-speed internet service.

Bell wanted to play into the rivalry between Canadian cities and the perception of Quebec City as the underdog, says Nicolas Poitras, VP marketing solutions, Bell Canada.

When the telco goes to market with a new product, he says, the strategy is to promote with a heavyweight OOH splash in order to "feel that you've wrapped your arms around a city and covered it with your message."

So Bell wrapped its message around 10 x 20 boards, super boards and buses. Yet in comparison to other major Canadian cities, the outdoor coverage didn't come close.

"Quebec City is a market with significantly less OOH advertising available [and] we had to work to make sure we had enough presence," he says, adding that Bell put its trucks to good use by wrapping the campaign creative around hundreds of technician vehicles while they were installing the network in the city.

In the second phase of the campaign, all was revealed with billboards, TV spots, print ads and radio spots stating that Bell Fibe had arrived.

A 30-second spot was created to introduce the new service and six 15-second ads ran in parallel during programming to communicate the benefits of Bell Fibe, such as On Demand, direct access to social media sites and Whole Home PVR. And this was carried through to print and radio, says Poitras.