Canada picks up four more Lions
Lg2, Taxi, BBDO and JWT pick up a Lion each, while Nike+ FuelBand wins the Titanium Grand Prix.
Canada ends the 2012 Cannes Lions Festival with 20 lions – beating last year's count of 17 – drawing in four prizes on the final day.
In the Film category, three Canadian agencies walked away with some hardware, including a Bronze for Lg2 for its "Couch" spot for Krispy Kernel.
"That required no selling," says judge Angus Tucker, partner and co-CD, John St. "People laughed and loved it."
BBDO also nabbed a Bronze for its "Running" spot for the Canadian Paralympic Committee, featuring a man with amputated legs running around a track as scenes of his life play out backwards in the background.
Finally, Taxi grabbed a Bronze for its "Billy Bishop" campaign for the Hockey Hall of Fame which tells the sad (yet funny) story of a man who wasn't a hockey legend.
Overall, Tucker says the quality of work submitted across the world was good, but often not great. He points to the decreased number of medals handed out this year, 70 down from 102 in 2011, as an indication of that. From a Canadian perspective, he says agencies tend to have great ideas, but fall short in the execution. His own agency grabbed two shortlist nominations but was shut out of the wins.
Chipotle and Creative Artist Agency, Los Angeles took the Film Grand Prix, with the "Back to the Start" campaign, which also picked up Grand Prix in the first-ever Branded Content category at the Festival.
"I didn't know Chipotle at all [before the commercial]," says Tucker. "The first time I saw this spot, it completely changed my opinion of the company. Aside from its beauty, I think it had a very simple message. This ad couldn't have been for McDonald's or Burger King. It was distinct to the DNA of the company."
The broader campaign awarded in Branded Content for Chipotle included the Cultivate Foundation which supports local farmers, a loyalty program which rewards consumers for learning more about sustainable food, the Cultivate Food Festival in Chicago and the spot itself.
Avi Savar, Branded Content  jury president and founding partner of NYC-based Big Fuel said Chipotle and the other work the jury rewarded in the category puts consumers first, rather than traditional advertising, which he said puts the products first and the target audience second. He added the premise of the Chipotle campaign was around emotional connection that was core to the brand.
Canada also picked up Film Craft Bronze for JWT's "Bank Teller" for the Canadian Film Festival. It was awarded in the script category for the spot that follows a bank teller who stages a hold-up, creating drama for an unsuspecting customer.
The Grand Prix in Film Craft went to "Bear" by BETC Paris for Canal +. The spot is a mock-umentary style commercial following a bear skin rug's love of the film industry. Jury president Espon Horn, executive producer, Motion Blur in Norway, says of the spot, "We saw it 15, 20 times during the [judging] session and we still find it enjoyable. The 'Bear' stays with you."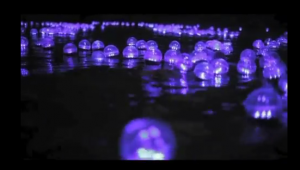 Unsurprisingly, the Titanium Grand Prix went to R/GA New York's Nike+ FuelBand, which also took an Integrated Gold Lion.

Integrated had no Grand Prix this year, with jury president Rob Reilly, CCO, CP+B, saying that, "The two Gold that won are exceptional." The other Gold Integrated was also a US win, "Day One" for Prudential out of Droga5.

Speaking to the Nike sweep, Reilly said that while the intent is still to "reward things that maybe don't have a place" – as per Dan Weiden's initial call for a category for things that didn't fit – he adds they don't want to exclude work that won elsewhere. Reilly explains, "We consider ourselves advertising people," so the Titanium factor of Nike+ FuelBand is, "When you see agencies partnering with brands on a product,"  commenting that they were able to take Nike+, which was made for runners, and make it accessible for everyone else. The device tracks a wide swathe of activities, goals and progress, and was touted with a campaign tagline, "Life is a sport. Make it count."

The US also took Titanium Lions for the Virtual 2Pac Coachella conjuring act by Chronic Touring, which helped Dr. Dre increase the late artist's album sales by 500%, while CP+B's "Ted Williams Fight Hunger" project, one of many innovative new Kraft efforts, nabbed one of the six Titaniums doled out this year. Jurist Rob Schwartz, TBWA\Chiat\Day CCO lauded Kraft's commitment: "they take this homeless guy and give him a chance, he falls off the wagon and Kraft sticks with this guy, rides it out, and is coming out even stronger. We need more brands to be as brave as Kraft."

The remaining two Titanium Lions went to Japan and Colombia. Dentsu Tokyo won for "Connecting Lifelines," Honda's immediate tsunami response, using its Internavi tech to map and communicate the ever-changing passable roads for relief workers.

Lowe SSP3 Bogota won for another social good mission, "Rivers of Light (pictured)" for the Ministry of Defense, which enlisted citizens to encourage the guerrillas to demobilize for Christmas. Notes and mementos encouraging the fighters to return home to their families were gathered by the army, and placed in phosphorescent spheres, resulting in 6,832 glowing message balls released, floating up rivers to reach the guerrilla outposts and beckon them home, netting a demob every six hours.

Referring to the innovative way of reaching people in the jungle, jurist Fernando Vega Olmos, JWT Worldwide chairman, Worldwide Creative Council, says: "If we are talking about importance of media – we have to remember there are lots of people who aren't using technology – it's important to find these and recognize them."

Defining Titanium, Fred Koblinger, CEO BBDO Group Austria, explains that it's ,"Work that is not purely advertising" and is "in the best sense, a game-changer in how we communicate in society and what we do," observing that many of the winners solved problems of society rather than brands.

In all, 19 Titianium and Integrated Lions were awarded, spanning 12 different countries, and Canada did not shortlist this year.

When strategy asked what it would take to go beyond Gold in Integrated these days, the jury responded:

- Ideas that hook technology with emotion.

- The craft side of every piece being at a high level.

- Reduce tendency for complexity – often not as compelling as a great idea told simply that works fast.

- Engage people – hitting as many channels as possible is not the game anymore – it's to get people inside the process and build more than image, rather instead build brand relationships.

(Ed note: Check out some of the Bronze Integrated winners that solved real human problems, such as "BHF Vinnie" out of Grey London, and "Mobile Medic" out of George Patterson Y&R Melbourne.)

Also at the final award show,  Mars CMO Bruce McColl picked up the company's trophy for advertiser of the year,  WPP won Holding Company of the Year, Ogilvy won Network of the Year, Wieden+Kennedy won Independent Agency of the Year, and Droga5 won the Grand Prix for Good with the "Help I Want to Save a Life" campaign for Help Remedies.

With files from Mary Maddever