NABS' high-flying interns
A look at the National Advertising and Benevolent Society's Vintage Intern Auction.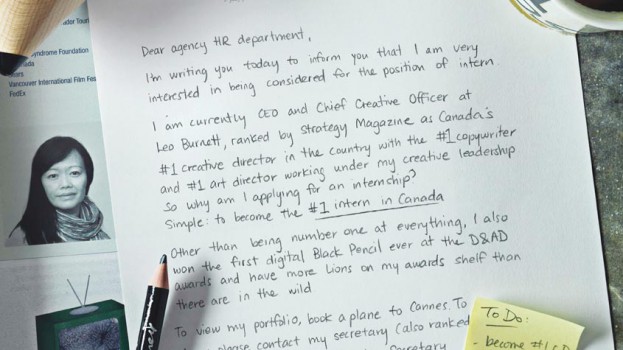 In her role as chief creative officer and CEO at Leo Burnett, Judy John occupies one of the most respected positions in the world of Canadian advertising. But when she reports for intern duty at Jigsaw Casting early next year as part of the National Advertising and Benevolent Society's (NABS) Vintage Intern Auction, she'll face tasks most people would be happy to avoid. The list of possible duties Jigsaw has drawn up so far? Well, she might be required to spend several hours on the phone cold-calling actors for very specific casting requirements, say, hairy-chested men willing to appear on-camera in a thong. Or perhaps she'll be on standby to ensure the bathrooms are stocked with supplies, a particularly unforgiving task on days there are baby castings.

It's the second year NABS has run the charity competition, which sees companies bid to have well-known Canadian ad execs serve as unpaid interns for a day. At press $30,000 was raised, although head of fundraising Mike Arlotto says the total may rise via residual donations. NABS raised $25,000 in the auction's inaugural year.

Other high-profile names who've been auctioned off include DDB Canada chairman Frank Palmer, who's off to Elevator Stategy Advertising & Design; York University marketing professor Alan Middleton, who will spend a day at MDC Partners; and partner and co-founder of Swim, Nancy Vonk, who'll spend a day with the creative directors at Sid Lee. The one caveat for participants is that they won't be asked to work on projects that may conflict with their own client relationships.

Zulu Alpha Kilo again devised the creative for the auction's campaign, which lived online and in industry publications, including strategy. The agency also created a series of mock cover letters laying out the extravagant work histories of each candidate.

On the participant side, DDB Canada chairman Frank Palmer rapped his way through an online video at strategy's invitation to promote the auction.

Beyond raising money, the auction helps NABS boost its visibility, says NABS executive director Jim Warrington. Despite being almost 30 years old, not everyone is aware of the non-profit, whose mandate is to assist people in communications and related industries that need help on account of illness, injury or unemployment.