Shopper Innovation Awards: Small budget
Programs for Stride Gum and Becel make big impacts with small budgets, winning Silver and Bronze respectively,
SILVER
Stride Gum targets teens at Mac's
Facing declining sales in an increasingly competitive in-store environment, Stride Gum was challenged to target a hyper-stimulated, easily-distracted and overly-connected teen audience.
With Mac's convenience stores typically located near schools, it has a higher percentage of teen shoppers compared to its competitors. So Stride launched a contest in Mac's locations in Ontario and Western Canada during the back-to-school period, offering teens the chance to win prizes worth up to $1,000 by entering UPC codes online, as part of the "Stride High" initiative (other contests involved submitting "ridiculous" videos to win cash).
The program, created with the help of Sid Lee and LPi Group, integrated multiple touchpoints throughout the path to purchase – including an e-blast to the MyMacs.ca database, a custom pre-pack displayer, as well as POS featuring QR codes inviting shoppers to enter the contest via mobile.
Digital ads on Mymacs.ca linked to the contest microsite and entrants could share their participation on Facebook and Twitter. Also, a staff incentive program encouraged employees to upsell Stride products by mentioning the contest at the point-of-purchase.
In-store support and online activity exceeded expectations, with the microsite receiving over 43,000 visits and more than 12,000 unique visitors. About 2% of entries came from mobile, and the contest generated 340 Facebook "likes" during the promotional period.
The program generated a unit sales increase of 180% in Ontario and 80% in Western Canada. There was also an 8.4% increase of market share in Ontario and a 5.5% increase in the West. Compared to regular promotional activity, the program created a 147% return on investment, as it drove four times more sales for Ontario and three times more sales in the West.
Credits:
Client: Mondelez Canada
Agency: Sid Lee
Shopper marketing agency: LPi Group
Associate shopper marketing manager: Sylvia Gurliaccio
Brand manager, Stride Gum: Mike Armstrong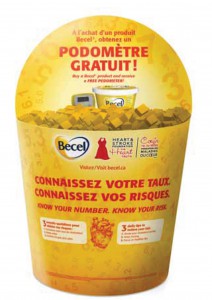 BRONZE

Becel takes a number

Becel wanted to highlight the importance of moms taking care of their heart with simple lifestyle changes, mainly through exercise and diet. The brand put out a call-to-action, appealing to women on an emotional level and illustrating how eating Becel and walking can lower their cholesterol.
For the "Know your number, know your risk" campaign, Becel created branded pedometers and gave them out for free to shoppers that purchased its product at participating stores. The budget was limited, so efforts were concentrated on in-store activations at 106 Metro locations in Quebec during Heart Health month in February.

The 76,000 pedometers were custom branded with the Becel logo and its website, and accompanied by a booklet that suggested tips for good health and encouraged the shopper to "know their number." In-store POS delivered the message and featured the pedometers positioned near the Becel bunker in the dairy section.

Total net sales for the promotion equated to more than $348,000, incremental units versus the baseline were up 83%, average customer penetration increased 21% and the ROI benchmark was exceeded.

Credits:
Client: Unilever Canada
Agency: Bob
Shopper marketing manager: Marie Pierre Mathieu
CD: Bartolome Graziana
Account services: Franck Escudier, Audrey Messier
Planning: Claudéric St Amand